Once a racer always a racer, as they say. For myself, riding the latest bikes for a job is a dream career, however, as good as showroom street bikes are, they never quite hit the mark of a well set up track bike or come close to the precision or agility of a purpose built racer, so I'm always hanging for my next racer fix, particularly now I have stopped racing.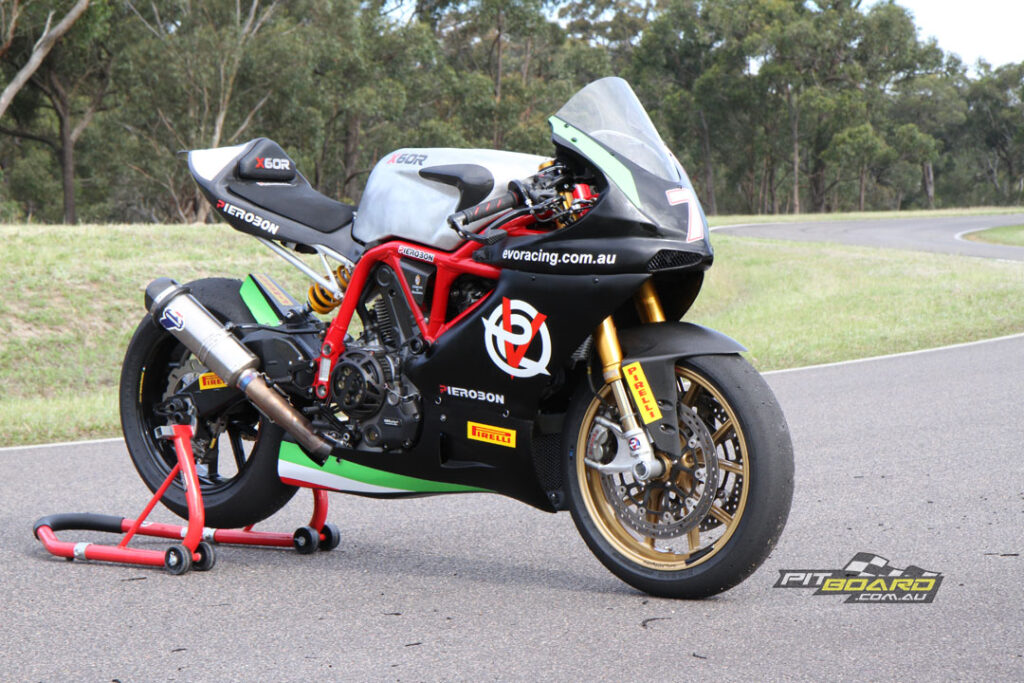 Riding a real racebike is always a good reminder of how great a motorcycle can be and all true racers have one thing in common ­– lightweight and good geometry. One bike high on my bucket list to test has always been the Pierobon X60R, a super lightweight, compact, GP-style racer with a grunty Ducati Evo motor thrown in.
---
Check out our other racer tests here…
---
The X60R has been around for a while, closer to a decade than not and to be honest I never thought I'd see one in Australia. When I built my Aprilia RSX550 F3 BEARS racer, on which I won a championship and set some lap records, I dreamed of owning a Pierobon X60R. That would have made life that much easier and given me a chance to run with the big guys… I at least wanted a spin on one…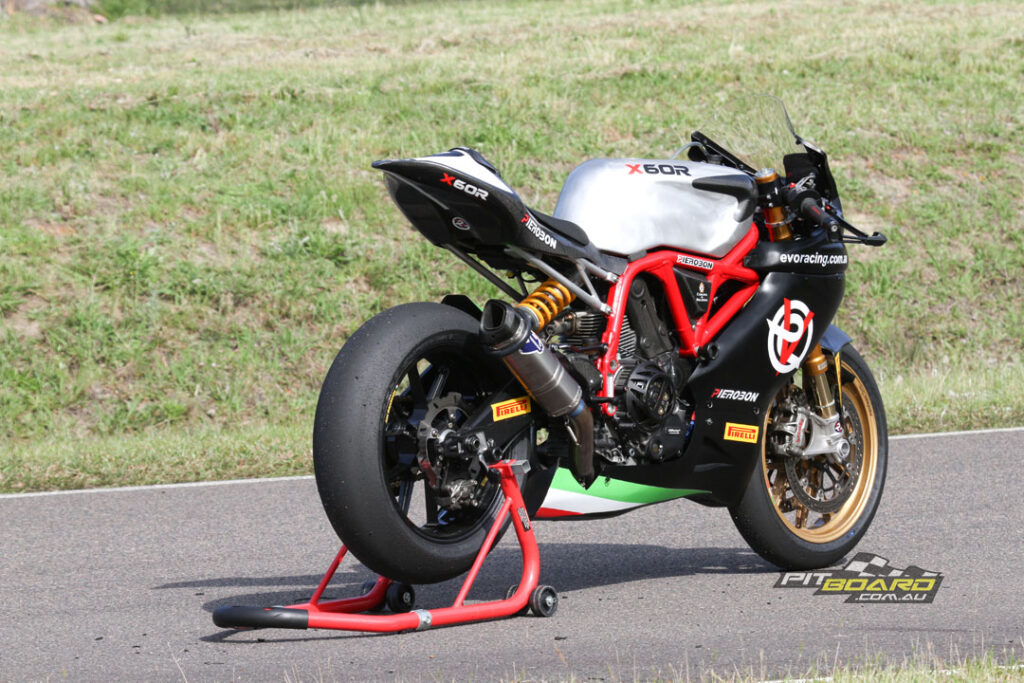 Years passed, my Aprilia went, and I forgot about the X60R… Until Simon Galloway, the multiple Australian FX Pro Twins Champion, started to race one here for the Australian Pierobon importer, Evo Racing, who brought the first Pierobon X60R into Australia and promptly began to set lap records, win races and ultimately the FX F3 Championship with Simon at the handlebars. He also set lap records at Phillip Island, Lakeside and SMSP on the bike, as well as winning three out of four races in the Vic Titles. Not a bad effort at all…
"The Pierobon is such a sweet bike to ride," says Simon, "It's so different, a real challenge to get the best out of it and run with the more powerful F1 bikes. It is so raceable, I can carve through the field on the bike, taking advantage of the nimble nature of the bike and the broad, flat torque curve. It's as though it has built in traction control.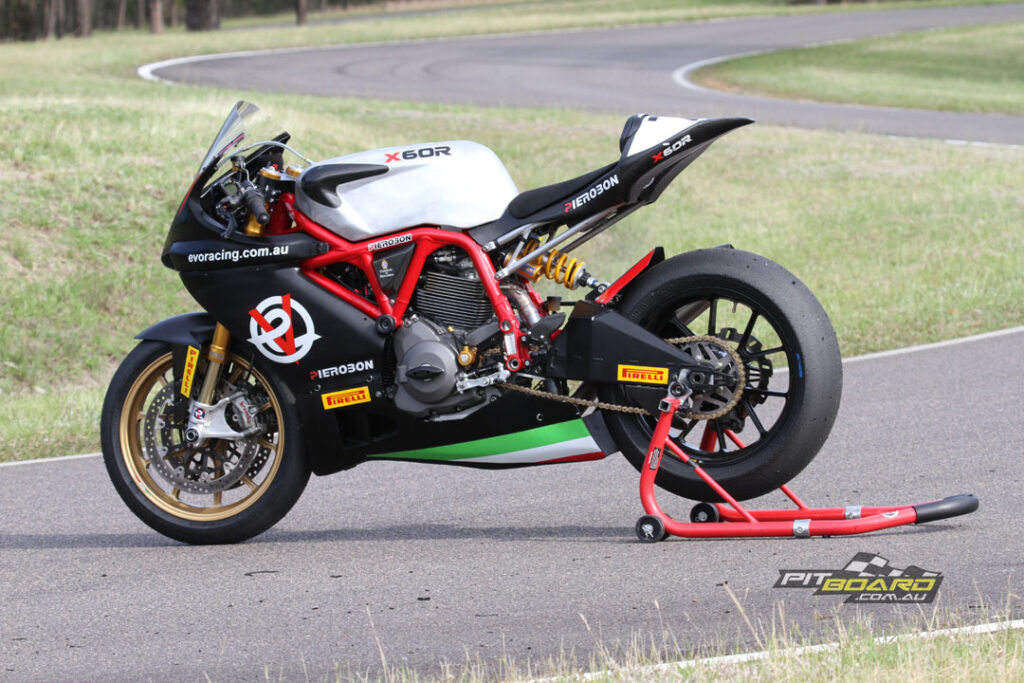 "Top speed is just 235km/h, however, at Phillip Island it is just fantastic to ride, the flowing nature really suits the bike. The engine is like a Merlin plane motor, it just pulls from bottom to top and plays a sweet tune. We have worked hard on set-up and got it right for me now. I would usually have it even steeper than it is as you ride it but the 'bars need more meat to clamp to on the top of the forks. Overall I love riding it, I am going to miss it this year as I just had an ACL reconstruction, but hopefully I will ride it again at some point…" He fnished.
---
"Top speed is just 235km/h, however, at Phillip Island it is just fantastic to ride, the flowing nature really suits the bike."
---
When Evo Racing owner Nick Byrne offered me a ride on the bike at the end of the season, I really didn't have to think twice. As quickly as I could, I lined up some time at our proving ground, the ultimate place to test such an amazing bike.
---
---
The test was a special one for me, being an F3 class bike, a true racer and a rare machine. Those are the things that really get me excited about motorcycling and a special bike like this deserves a thorough test on the best strip of tarmac in Australia, if not the world…

I rode the bike exactly as it came from the Lakeside round, which is good as Lakeside is similar in flow and speed to our proving ground, only a lot shorter. I was also glad to ride the bike as ridden by Simon, who happens to be an old friend of mine from when I was a 17-year-old screaming around on my TZR250 up the Old Road.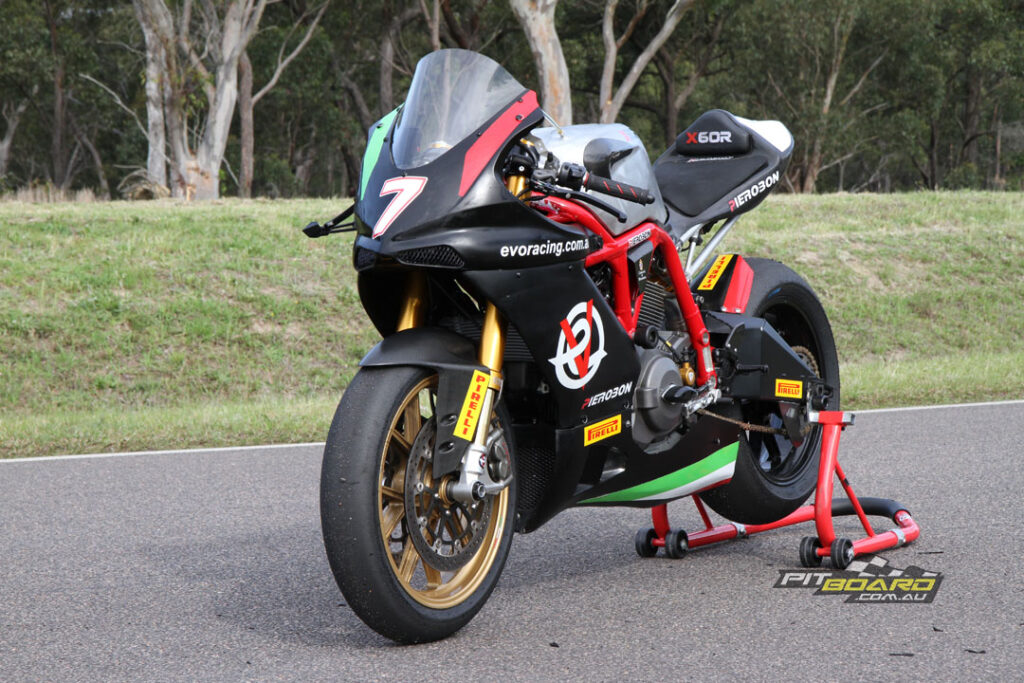 Simon was in my riding group and was one of the fastest guys up there, who thrilled us all of a Sunday doing all-gear wheelies along Peats Ridge straights on his 1993 Fireblade… He is a naturally fast, very talented rider and a polite, quietly spoken person off track but a fierce competitor when the visor comes down.
THE EVO RACING PIEROBON X60R
Nick Byrne has a bit of a sickness for Euro bikes particularly of the Italian origin. Pierobon is one of the most unique, rare and sought-after of the Italians and as the Australian dealer for Pierobon, it made sense that Nick build an X60R to get the brand out there in Australia and to put some trophies in the cabinet.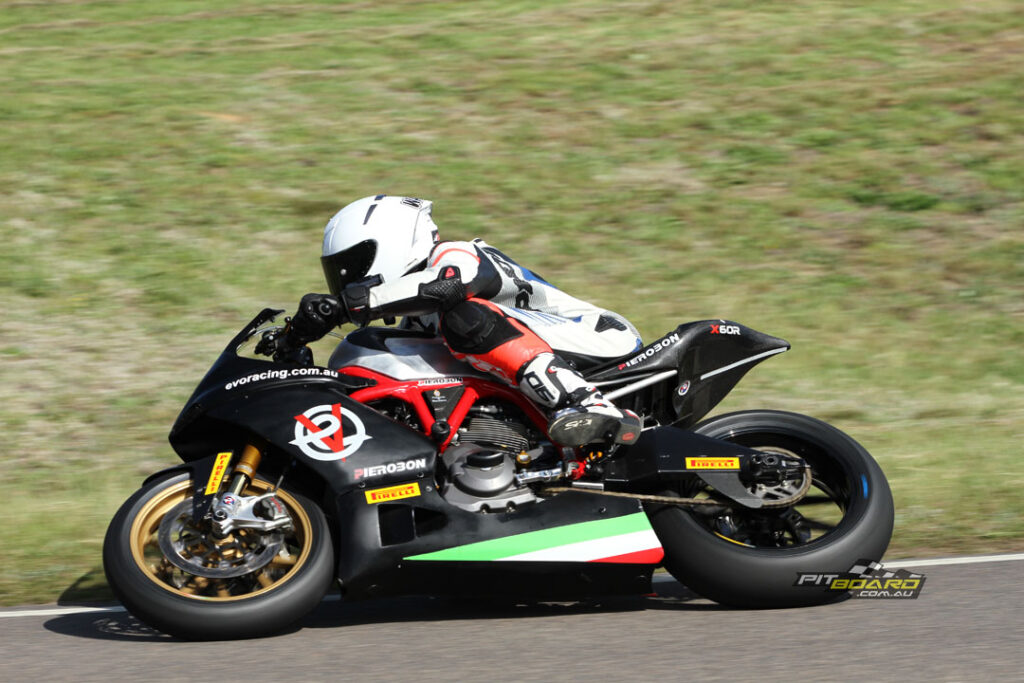 As Nick says, "The idea of putting an ancient two-valve engine in a cutting edge chassis and maybe beating four-valve twins was too good to resist. And don't forget that stunning two-valve sound…"
The kit used is a 2017 X60R frame number 077. It cost around the 25k mark and includes the 6.3kg 7020 alloy frame and hand made 21-piece swingarm, weighing just 3.6kg, a stunning 3.48kg handmade brushed alloy tank, featherweight front and rear alloy sub-frames, stunning carbon-fibre bodywork, stylish racing seat, adjustable billet CNC alloy triple-clamps, adjustable rearsets, everything except the engine, suspension, electrics, wheels and exhaust, which are left to the owner to choose.
---
---
The frame kit can be either made for a Supersport, Hypermotard or Sportclassic donor engine/airbox, this one was built using the Hypermotard as a donor engine.
The engine was up-spec'd to produce 115RWHP (standard is 98hp). The cylinder-heads were ported, flowed and 47mm (IN) / 41mm (EX) valves fitted. Camshafts were replaced with Kaema items, pistons with high-comp Pistal slugs, conrods with Pankl Ti units and the crankshaft, which spins in stock cases, was lightened and balanced.
---
---
Comp is bumped to 12.5:1, the gearbox is Hypermotard sans top gear set, which is from a 999, and the clutch is an EVR CTS slipper unit with sintered plates and Brembo control. Fuelling is by stock throttle-bodies and PCV, ignition standard and exhaust the ultra-trick Pierobon Termignoni. Sean at D-Moto built the engine, while tuning was taken care of by Mark Carlsson from Serco in Brisbane. A reverse quickshifter is fitted as well. There is no TC or any rider aids.
Nick says the bike went together easily, like a grown-ups Meccano set… "The bike was built in a month or so. The kit is really well thought-out with only a handful of tricks, parts or shortcuts to learn before it is ready for testing. Keeping the rear-cylinders cool is always a challenge, hence the double-coolers and carbon side-scoops".r, Woodcraft 'bars, Ohlins FGRT203 43mm forks running 9.0kg springs, an Ohlins DU235 shock with 8.5kg spring and the 7020 box-section swingarm with progressive cantilever.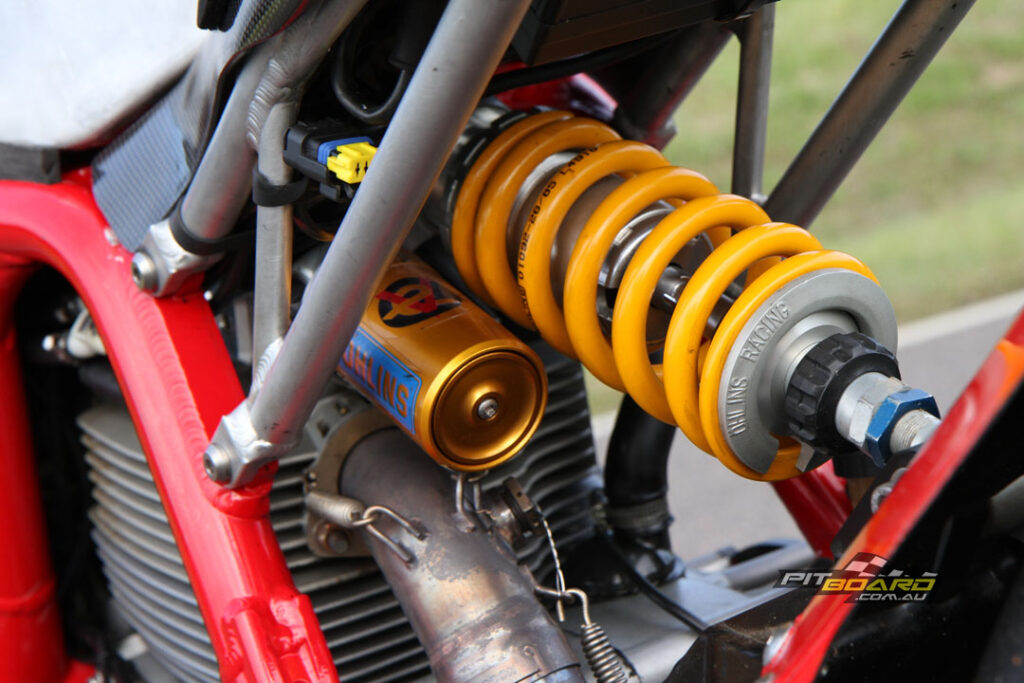 Each end rolls on trick Magnesium Marchesini wheels wearing Pirelli slicks and braking is partly adopted from the Panigale, with Brembo M50 radial-mount calipers up front squeezing MetalGear rotors via Brembo Z04 pads and a Brembo RCS radial-pull master-cylinder. The rear rotor is by Braking, with a small Brembo caliper and master-cylinder. Fluid is delivered by Hel brake lines.
The bodywork is Pierobon X60R fibreglass kit with carbon-fibre tail, along with the seat unit and the tank as mentioned is the stunning brushed alloy handmade kit one. I have to admit, it is one stunning racebike and I have actually enlarged one of our high-res shots and printed it for my shed wall!
---
---
THE RIDE – EVO RACING PIEROBON X60R
F3 class bikes are some of my favourites, if they are proper racers or custom made hybrids. My RSX550 hybrid (RS250 chassis, SXV550 engine) was a beast and the Pierobon X60R takes that type of bike to the next level thanks to the bigger engine and super-trick chassis. I knew the ride would be good, particularly given Galloway's results and the experience from the team at Evo Racing.
We took the bike to our proving ground, as mentioned, as it has a perfect mix of fast and tight, flowing and sharp corners and a long enough chute for the 1100 to stretch its legs. After a quick look over and a run down from Nick, which as he pointed out, there was nothing too fancy to worry about, I hopped on the tall, narrow X60R and immediately feel the raceful purpose of this Italian thoroughbred.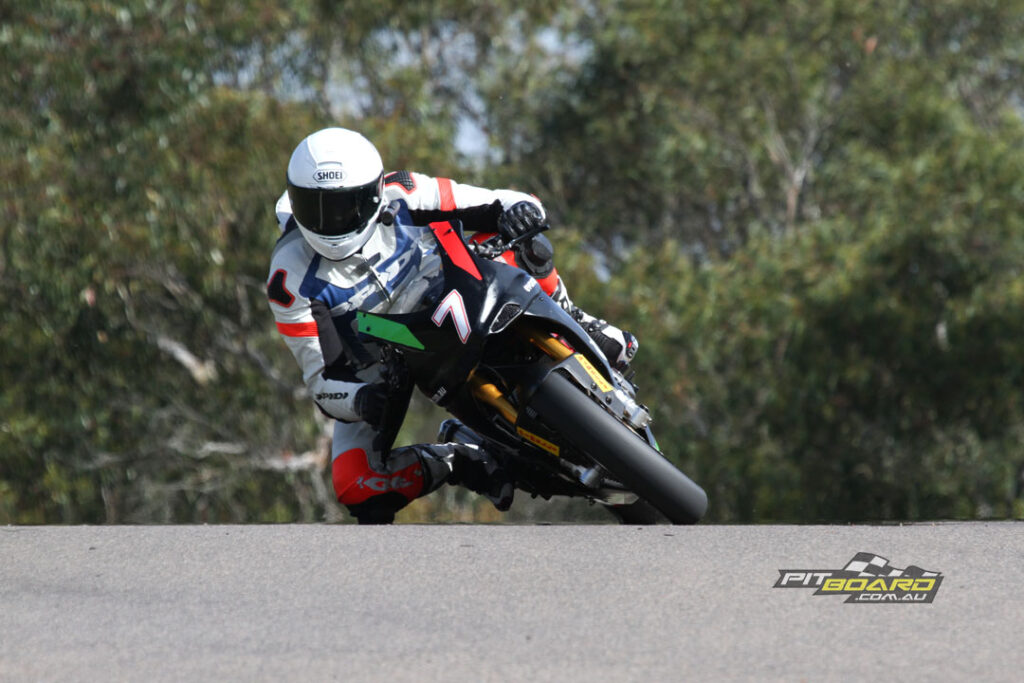 The racer in me comes back immediately and I start to feel butterflies in my stomach as the loud Termi booms crack after crack of high comp piston and big cammy large valve combustion explosions. It sounds as mega as it looks and feels a tad intimidating initially.
---
The racer in me comes back and I start to feel butterflies as the loud Termi booms crack after crack of high comp piston and large valve combustion explosions.
---
I pull in the firm Brembo controlled dry clutch, pop it up to first with a thud and roll out onto the tarmac, short-shifting my way into my out lap… I reckon that the torque is monster and flatter than the Simpson Desert. Definitely no need for traction control, it's built into the engine delivery…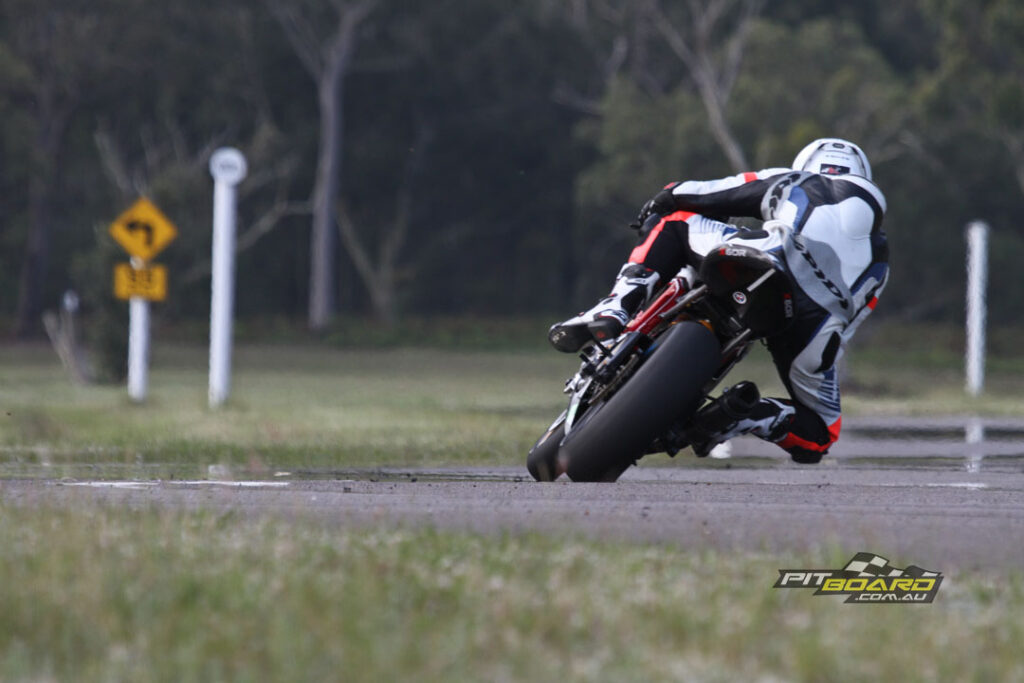 Nick has warned me that the brakes are, in his words, 'retina detaching' and I take heed of his warning, as the first time I use them, as I brake hard into a left hairpin, I almost go straight over the clip-ons, landing on the edge of the tank and that was one finger. Jesus it has big anchors…
I spew a little in my mouth, re-focus and then start to get in a groove. Just as I start getting a little cocky, I almost lose it again as I brake into a left-hand downhill off-camber blind entry. The bike is deceivingly quick thanks to the flat power and those brakes got me again, this time with the rear of the bike about a foot in the air (it's OK Nick, you couldn't see this happening)…
---
---
The Pierobon was telling me to calm down and give it some respect and a bit of space. I was already trying to grab it by the 'bars and lead it around my way but this is not the right way to ride this bike. I soon settle into a rhythm, slow down to speed up and before I know it I'm in the zone and truly appreciating this motorcycle.
The engine is so sweet and throttle pickup is spot on once we remove the noise-limiting bung from the muffler. Whether cracked from low or high rpm on run-in, it picks up and doesn't unsettle the bike at all. Also, the monster torque is delivered in such a way that is forgiving on the balance of the bike and on me, the rider, as I'm not even getting tired.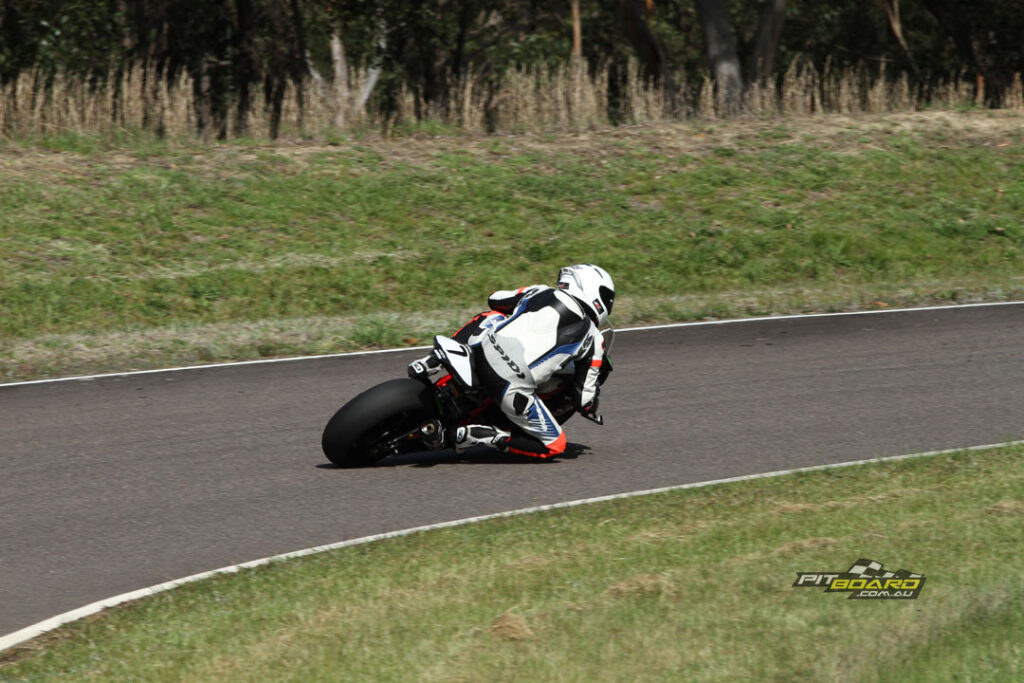 Shift is hit and miss, while the ignition kill of the quickshifter too broad, making for clunky progress on the way up the gearbox, so at some points of each lap I am shifting old style. I don't notice the gear ratio changes that have been done but do find the gearing and the gear ratios right through to top to be really nice and the engine just keeps pulling.
On the way down, I'm becoming addicted to the sound of the bike blipping down the 'box and I'm grinning each lap I enter the esses. It sounds awesome. Engine braking, for my liking, is a little overly engaged and I experience some speed hindering rear wheel hop into turns, no doubt due to my extra weight on the front of the bike and the way I am seated being a lot taller than Simon.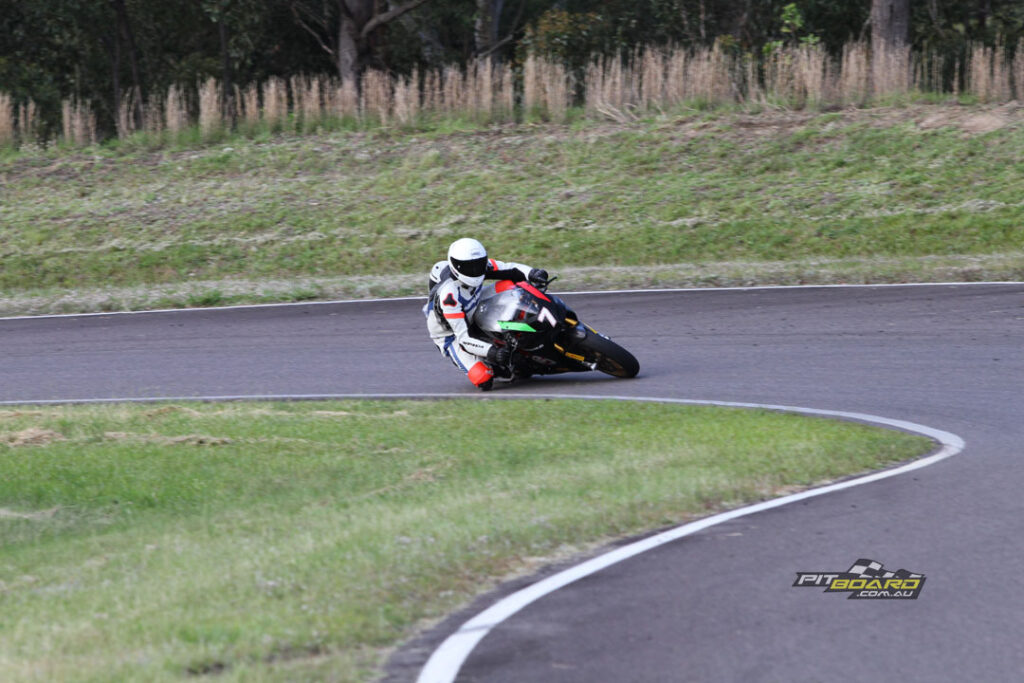 As the forks go through their stroke, my weight is shifting forward and lifting the back. Too many up-sized KFC meals I'm afraid… One of the rare A-Grade racers with a double-chin and proud of it!
---
"On the way down, I'm becoming addicted to the sound of the bike blipping down the 'box and I'm grinning each lap I enter the esses."
---
Back to the brakes. I've figured out by now that if I raced this bike I would crash on lap one, the moment I got into a battle and lost a bit of my smooth style. Simon is a calm type of person. I'm a hyper mental case.
---
---
We grab brake levers differently so for this test, I am just taking a calming breath and 'easing' the lever in a bit earlier than normal, being careful as to not smash the forks through the ground with reckless grabbing at the lever. It works and honestly the stopping power is up there with the Cagiva 500 I rode. It's sh*t scary… I love rear brakes and I'd usually be doing my best to burn these pads up on the Pierobon, however, with the engine braking I've hardly touched the rear lever.
Handling is absolutely sublime, a large step above most current production bikes, with lightweight agility, high-end Ohlins, magnesium wheels and lots of sticky Pirelli on the tarmac it is a match made in heaven when all tied together with the sweet Pierobon frame and swingarm.
---
---
I'm not privy to Evo Racing's geometry setup on the bike but it's purposeful and racey. Initial turn-in is fast, accurate and effortless on or off the brakes, fall-in is predictable and neutral enough given the layout of the bike and once on its side, line holding is superb.
When pushing at full lean through the esses, the front did want to push, or be driven wide, by the rear but it is predictable and there is plenty of confident feedback through the 'bars and shape of the tank. The rear of the bike hooks up amazingly and is controlled and also inspires confidence, with loads of grip from the fat rear Pirelli slick.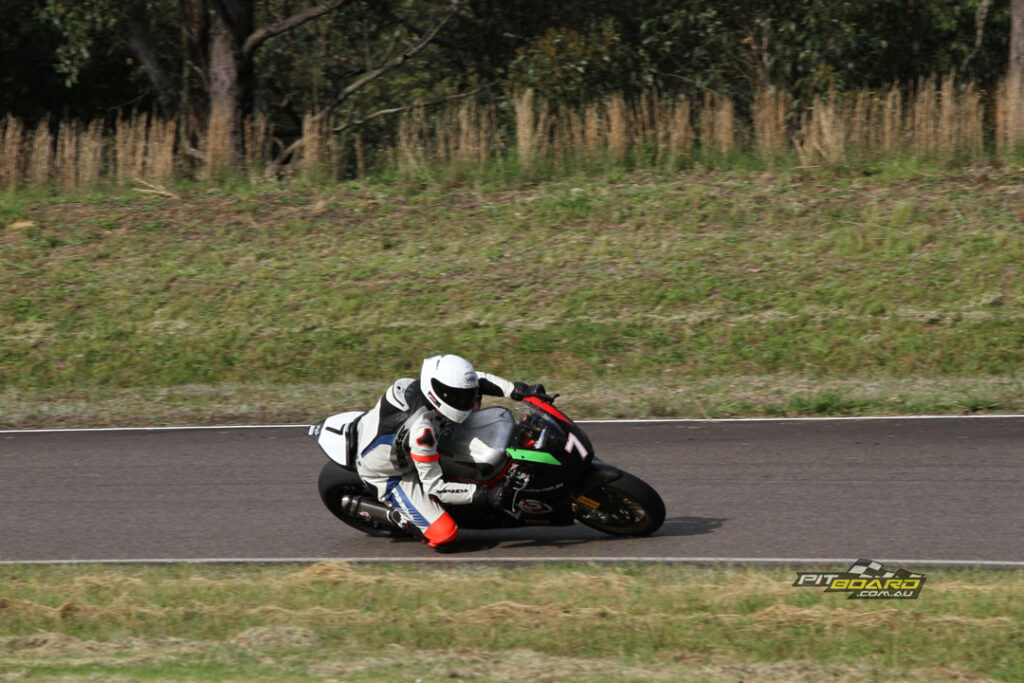 As I pulled up after my test I was grinning and felt honoured to have had the opportunity to ride a Pierobon, particularly the X60R. For a bike chassis that is close to 20-years young now, it sure does perform well. The big factories haven't caught up yet… What a ride, it'd be the ultimate track day tool. As soon as I got home, I picked the scab off a cold tinnie and reflected on a test that is a definite highlight for me.
ABOUT PIEROBON
Pierobon is an Italian chassis manufacturer that has been supplying components at elite level since 1952. As well as box equipment Pierobon specialise in frame kits, bodywork, fuel tanks, triple-clamps and swingarms and just about any racing solution required, working closely with and supplying to MotoGP and WorldSBK teams.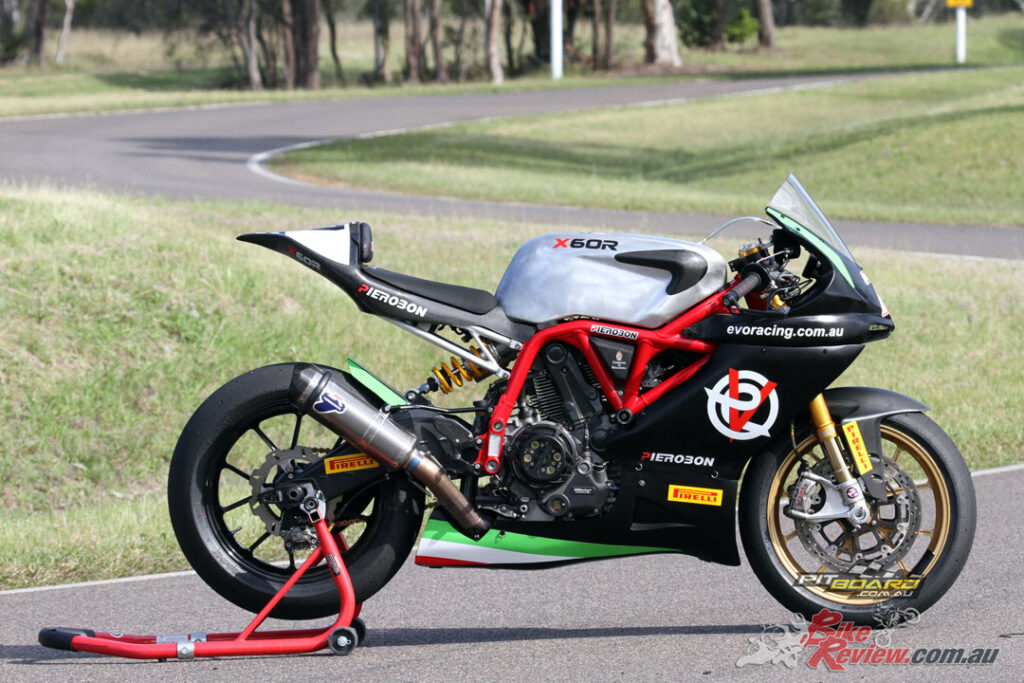 EVO RACING PIEROBON X60R SPECIFICATIONS
ENGINE: Ducati Hypermotard 1100 Evo (2010 – 2013), 98 x 71.5mm bore x stroke, 1078cc, 12.5:1 compression ratio, Pistal high-comp pistons, Pankl Titanium conrods, lightened and balanced crankshaft, Kaemna camshafts, 47mm (IN) and 41mm (EX) valves, Kaemna ported and flowed cylinder-heads, standard crankcases, 1198 oil cooler with additional Earls 13-row upper cooler with oil supplied to heads via cam covers, standard ignition, Power Commander V tuned by Serco on 98 PULP, 996 bellmouths, MWR filter, custom Termignoni exhaust system, stock Hypermotard gearbox with lower top gear, race pattern with reverse quickshifter, 15/39 gearing as tested, EVR CTS slipper clutch with sintered plates, Brembo RCS slave / master-cylinder.
---
CHASSIS:2017 Pierobon X60R frame, Pierobon triple-clamps, billet alloy headstock and swingarm pivot points, box-section alloy Pierobon swingarm, Ohlins DU235 shock with progressive cantilever and 8.5kg spring, Ohlins FGRT203 43mm forks, 9.0kg springs, 150mm oil height, standard internals, Brembo M50 front calipers, MetalGear rotors, Brembo Z04 brake pads, Brembo RCS master-cylinder, Hel brake lines, Braking rear rotor, Brembo caliper and master-cylinder, Marchesini Magnesium wheels – 17 x 3.5in (f) and 17 x 5.5in (r), Pirelli SC2 slicks, Woodcraft 57mm handlebars, Pierobon fairing kit in fibreglass, carbon-fibre tail, handmade aluminium fuel tank, Pierobon seat.
---
PERFORMANCE: 115whp, 136kg dry, over 235km/h top speed.
---
OWNER: Nick Bryne – Evo Racing, Sydney, Australia

EVO RACING PIEROBON X60R Gallery