In volume one, Stuart interviewed his friends, Chris and Alex Pickett, about their first foray into racing on the roads at the Isle of Man. From there Alex went on to ride for a couple of well-known teams at the TT. Here's how it went down.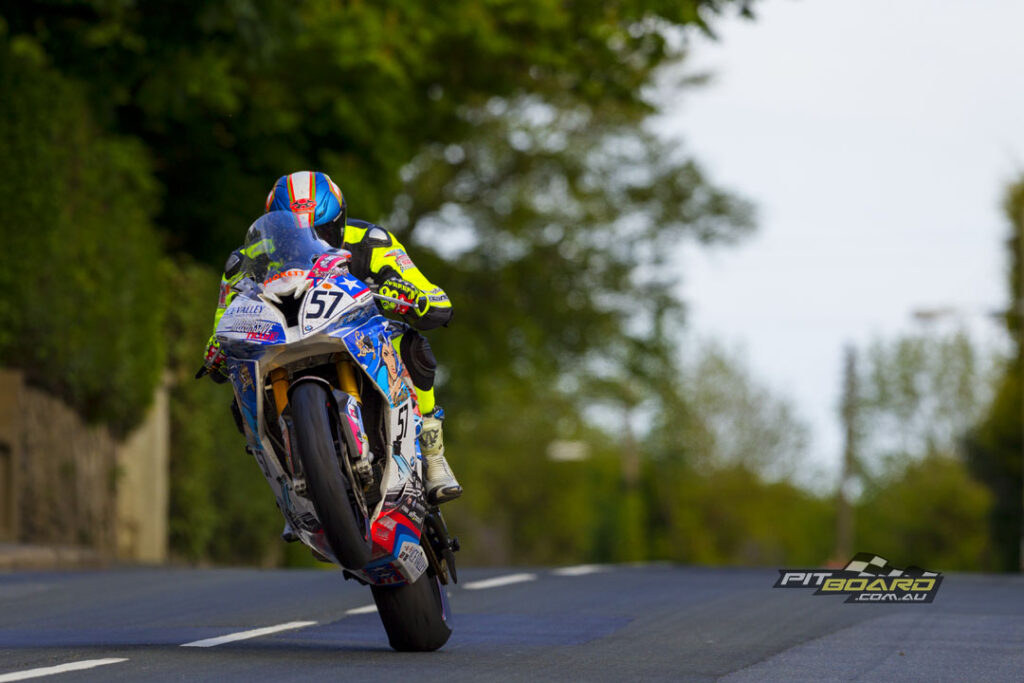 Alex: "I had become friendly with a local Isle of Man based team when I was at the Manx GP in 2013. TC Racing is a family-based team that specialises in up and coming racers, especially ones from overseas. Cam Donald and Dave Johnson both had their first TT starts with TC Racing. Often, over the years, you'd find the three of us Aussie riders chilling out in the TC tent. It's a real family atmosphere and they are in fact still like family to me. All decisions within the team are made as a team and they approached me to ride for them in the 2014 TT, getting sponsorship from the IOM government. I had to get myself there and pay for tyres. Everything else was covered."
---
Read volume one of Between The Hedges here…
---
Chris: "TC Racing is not only a great team but a great bunch of people. John and Liz Taubman, their daughters Alana and Sam Taubman and their partners Gas Knight and Mick Charnock. Mick himself was a very experienced roads racer but a couple of big crashes at the the TT stopped Mick's career. They looked after us like family, even after my mate Dave dropped a brand new Magnesium Dymag rim on the ground. Dave is no longer with us, but gave us some great laughs at the TT in 2014. Little did we know he had a brain tumour at the time and was losing the plot a little."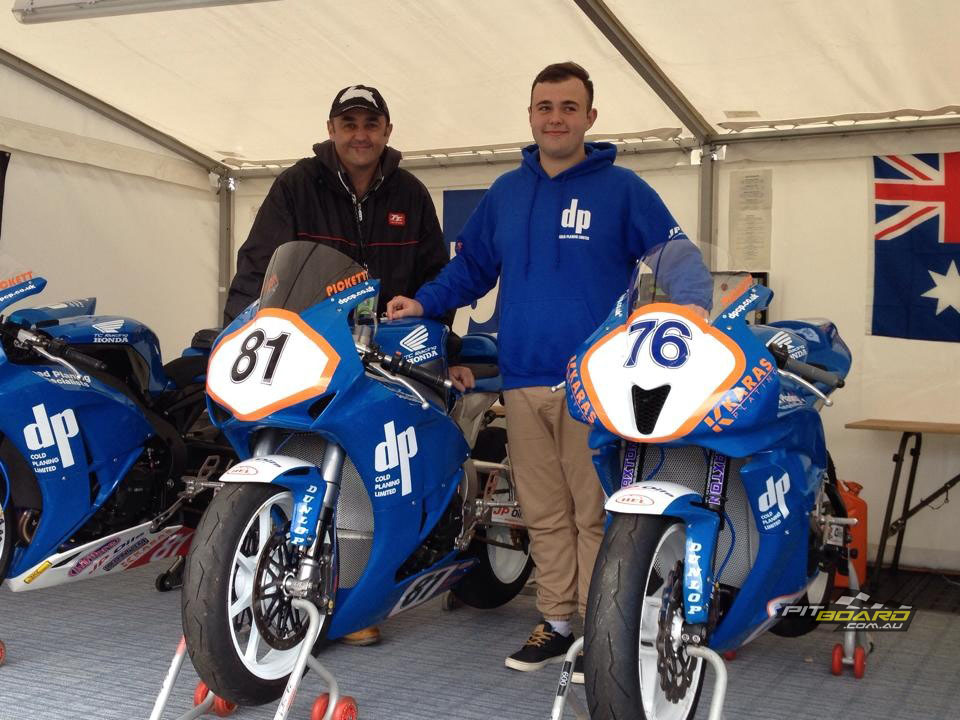 Alex had a full schedule at the 2014 TT.
Alex: "I was entered in all five races in 2014. I had a Honda CBR600RR for the Supersport class, a CBR1000RR superstocker and a full house CBR1000RR for the Superbike and Senior TTs. Practice week went ok, but not without a few dramas. The super stocker fried a fuel pump fuse and left me stranded near Sulby Bridge, and I crashed the same bike at Creg Ny Baa on another lap during practice week. I say crashed but it wasn't as bad as that really. I had been on a flyer of a lap. I couldn't understand why I was passing bikes so easily, thinking they were going slow. Turns out I was going fast, wheel standing everywhere and having a blast."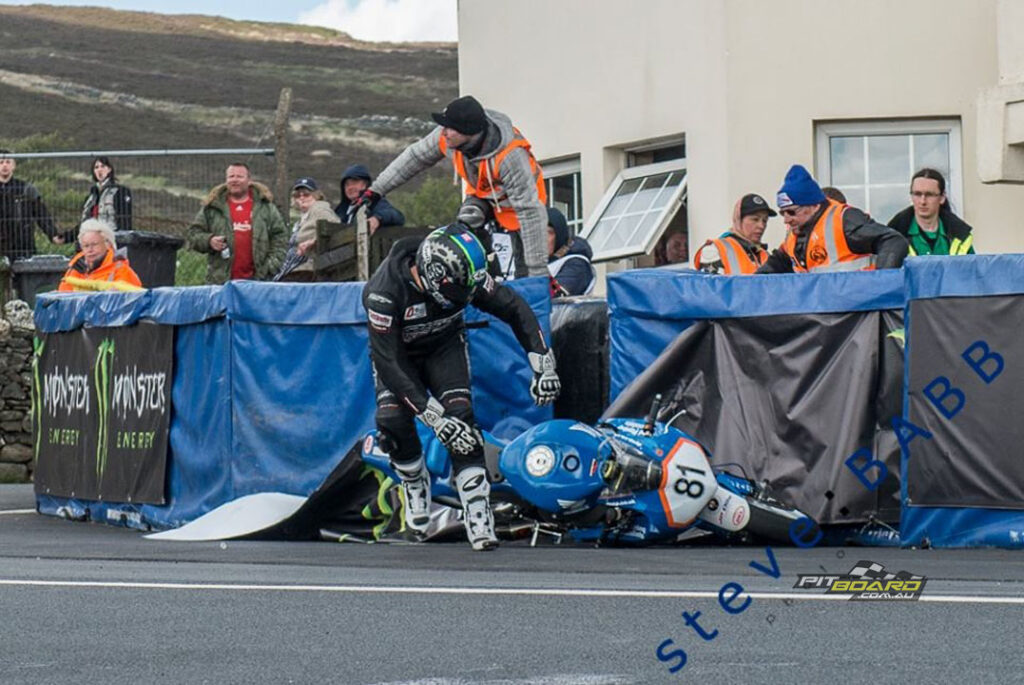 "That bike was so easy to ride but as I hit the brakes for Creg Ny Baa I found I didn't have any. All the wheel standing and head shaking had forced the front pads back in the calipers and by the time I realised what was happening I ran out of road, nose diving into the air fence at the pub on the corner. The bike plopped back down and fell over, breaking a brake lever. When I got back to the pits the team was jumping up and down, saying I was on for a 125mp/h lap until my little 'incident'.
Chris: "Alex was going well in practice and qualifying but was struggling with the Superbike. It was a beast of a thing, with a 24-litre tank, lots of horsepower and a front end off Carlos Checa's world superbike CBR. I think he was actually faster on the super stock 1000. A couple of times he came in with grass on the fairing where he'd nearly ran out of road, so that was a bit scary for me at least. Overall though, especially in the Supersport class, he qualified much higher than the start number the TT organisers had given him."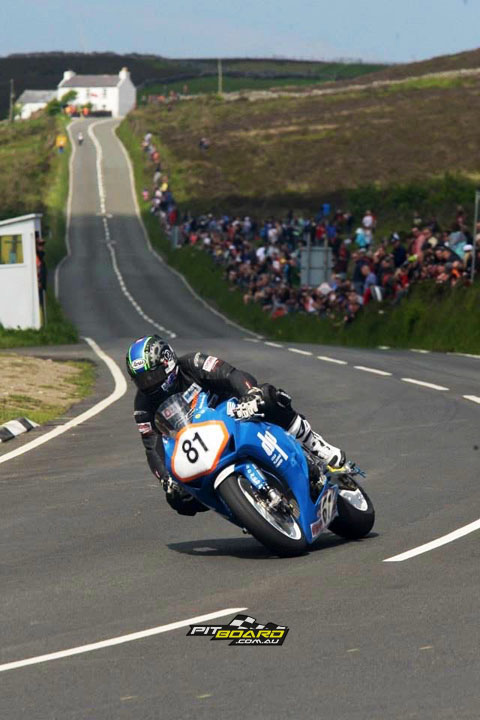 Alex: "We were running hard compound Dunlops that year, they could do six laps. The top blokes had quick change rear axles so would change two rear tyres during the race. I had to manage my tyre wear. Turned out it didn't matter in this race anyway. The six lap race started well but on the second lap I lost the front on a left hander just up from the Gooseneck. I was doing at least 160km/h at the time. I lost the front but managed to keep it upright, but then of course I ran out of road. I ran up the embankment and somehow managed to jump across a two car wide gap in the embankment where there was a gate for the paddock. Somehow, I managed to stay on and rode back to the pits. I was pretty shaken up but still managed a well over 120mp/h lap. There was grass and dirt everywhere on the bike, even between the tyres and the rim. How I didn't crash I don't know."

Chris: "I was watching the pit crew getting ready for Alex's first stop. Gaz Knight from TC Racing was next to me and said, "There's something wrong", as soon as Alex pulled up. You could see from his body language that his race was over then and there. To this day he doesn't know if he hit something slippery on the road or just made a mistake. Luckily, he stayed upright. It was pretty scary for all of us."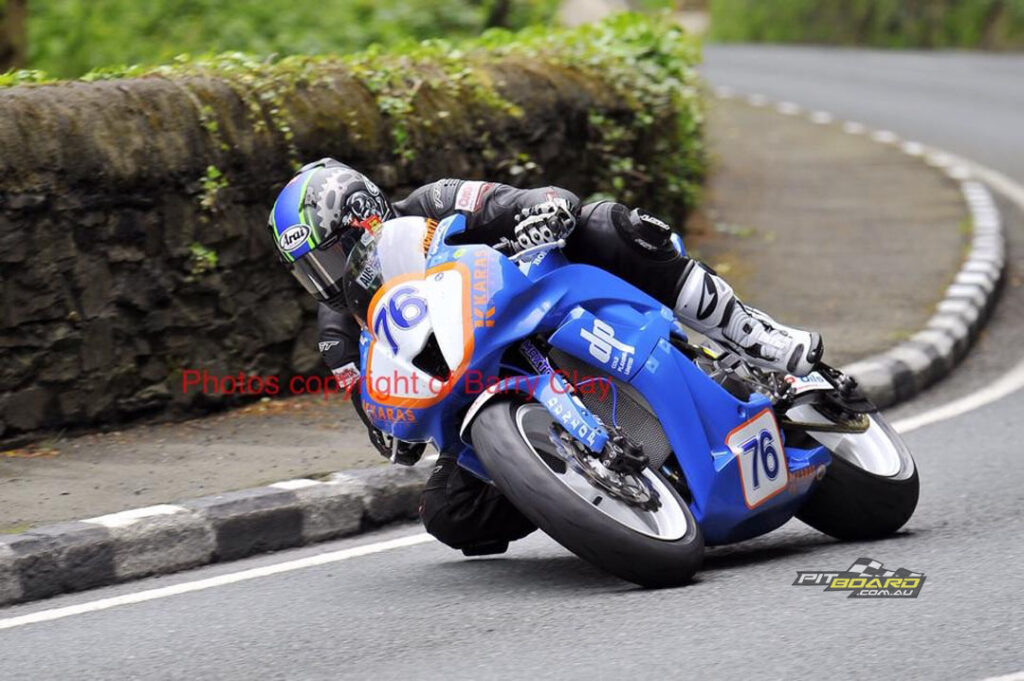 Alex: "The rest of race week was a shit-fight really. The team bent over backwards for me but we just had issue after issue. I was going great in the first Supersport race until the engine blew. In the Superstock race I was pumped up more than ever before. I was flying on the first lap but the fuel pump fuse blew again. We put a used stock engine from the wreckers in the CBR600RR for the second Supersport race and it held together. I came around 30th out of near 100 riders but I knew I could have gone better. The best bit was dicing with my mate Dominic Herbertson for the entire race. I had qualified one place ahead of him but we were evenly matched. Dom went on to be a well-known sponsored TT racer in the UK. We are both from 'Newcastle', on opposite sides of the world."
"The last race of the week was the Senior TT, the one every rider wants to win. Of course that wasn't going to happen for me but I wanted to give it everything. It all went well enough on a bike I struggled to tame, but I ended up around 50th place. Then it was all over for that year."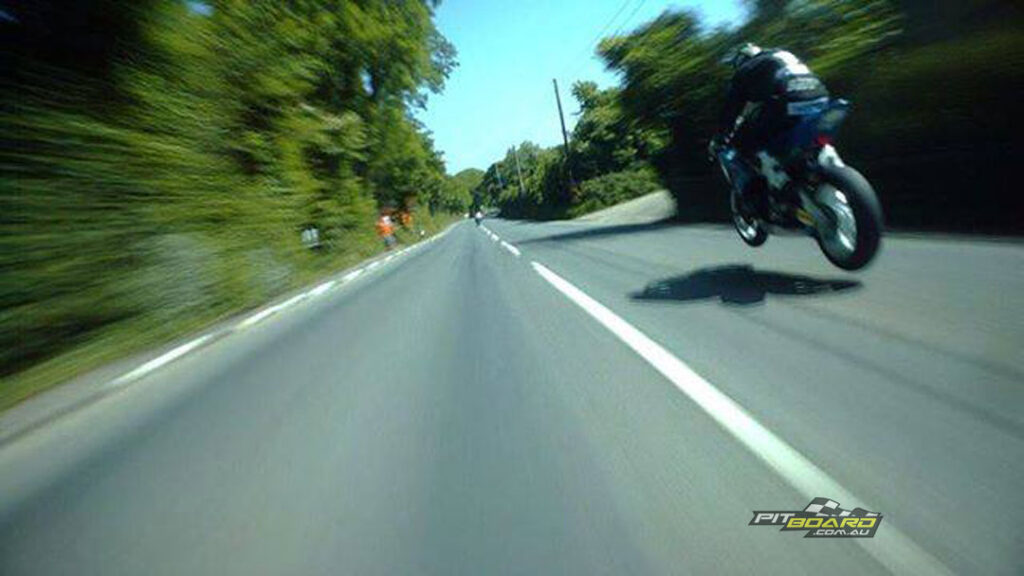 Chris: "One of the highlights was seeing Alex get some good airtime on the TT coverage. He was flat out and Michael Dunlop eased past him on top of the mountain. The commentators gave him a big rap which was nice. FOX Sports usually runs the coverage of the TT but it's a huge thing over there. ITV4 does the coverage and you see it each night. There are something like 300 people from ITV4 working on the TT, and the night's show starts only one hour after practice stops, for example.
"Another surreal thing happened that year and a photo was taken of Alex that went viral. Guy Martin was chasing Michael Dunlop in one of the big bike races and Martin had an onboard camera. They both caught Alex near a big jump at Ballacrye. A still shot was taken from Martin's bike showing Alex getting big air on the CBR1000RR. Fantastic stuff."

Alex was disappointed with his results, though much of it was out of his control.
Alex: "I was very disappointed in my 2014 results. I feel I could have gone better, especially in the Superstock race. To this day that CBR1000RR is one of the best bikes I have ever ridden, if not the best. It was so easy to ride fast and I was on a mission that day until it broke down. That one, more than any of the others, really hurt."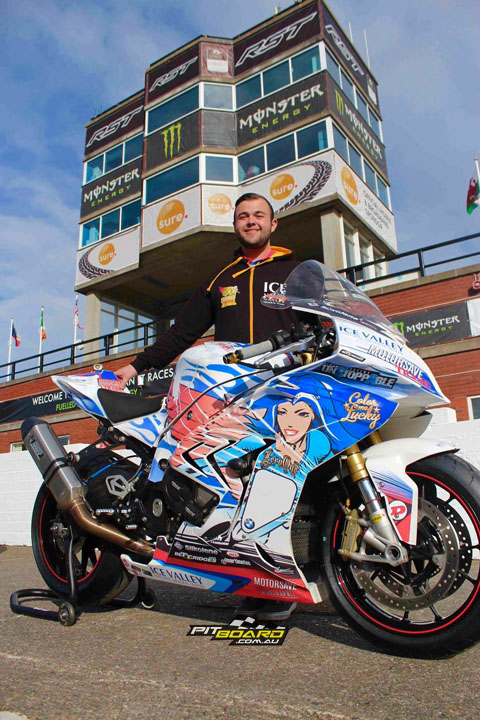 Chris: "Not much was on the radar for 2015 at the TT for Alex until I got an email from Paul Phillips, the head man at the TT, saying there could be something with Ice Valley BMW. We didn't have the money to do something ourselves from this side of the world, so the deal was not a bad one for us. The ride was paid for by the IOM government and Ice Valley with us having to pay for tyres, getting ourselves there, and crash damage. What could go wrong I though. Lots as it turned out."
Alex: "This was the team that gave Peter Hickman his start in 2014. He did a 129 or 130mp/h lap in his rookie year so the team had some pedigree. There were three riders in the team, myself, team principal Paul Shoesmith, and French rider Franck Petricola. All of us were on BMW S1000RRs with customer superbike kitted engines. They had around 215rwhp so were fast. It all turned to crap before practice week even started. We were at Jurby Airfield to get a feel for the bikes and I managed to highside the bike big time. I was pissing blood for a week and nothing went right after that. I knew the old man wasn't happy when I was lying in the back of the ambulance and the door came flying open, him giving me a spray and slamming the door shut. The nurse said, "who's that?" … "My Dad," I replied.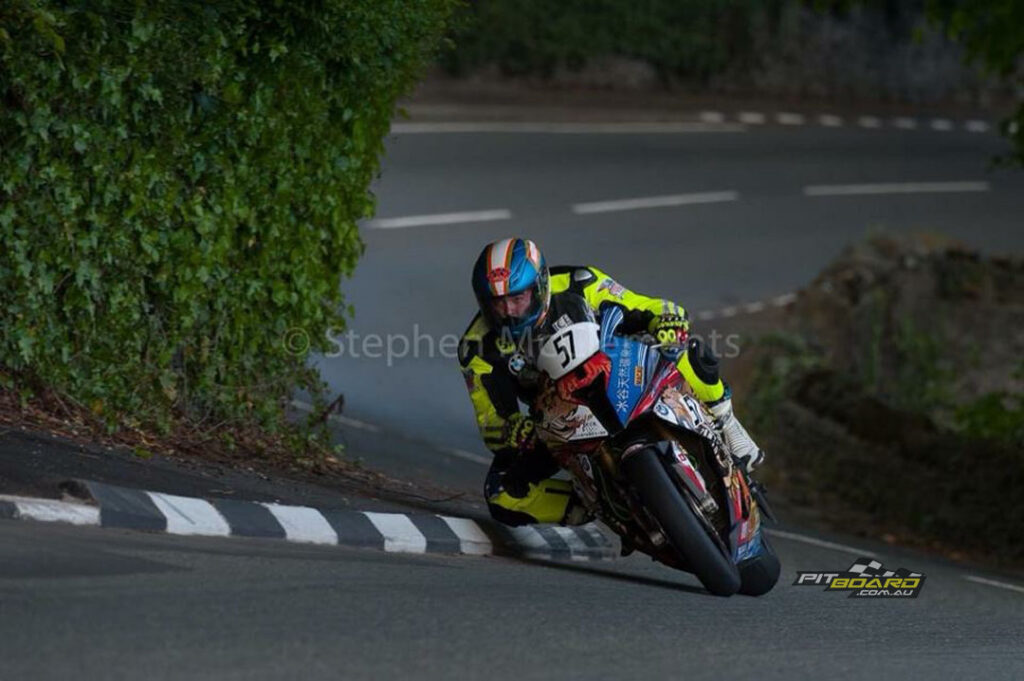 Chris: "I could see someone was going to crash that day at Jurby. It was so cold and Alex was showing everyone he was the fastest. I wanted to grab the red flag and stop the session but sure enough, Alex had a massive highside. Sometimes you can see things happening before they do and that was me that day. I still maintain there was no point being out there in those conditions. The risk was much higher than any gains to be had. As they say, you can't put an old head on young shoulders."
Some tool time was required…
Chris: "Alex only had the one bike, which was now well damaged. I somehow became his default mechanic and had to borrow tools to get the bike back on track. From then on we chased electrical gremlins, that even factory staff from BMW head office in Germany couldn't fix. It had a habit of cutting out and then chiming back in. We changed all sorts of stuff to no avail, so Alex had to practice on an older S1000RR while we tried to fix his bike, partly held up from waiting for parts from the mainland."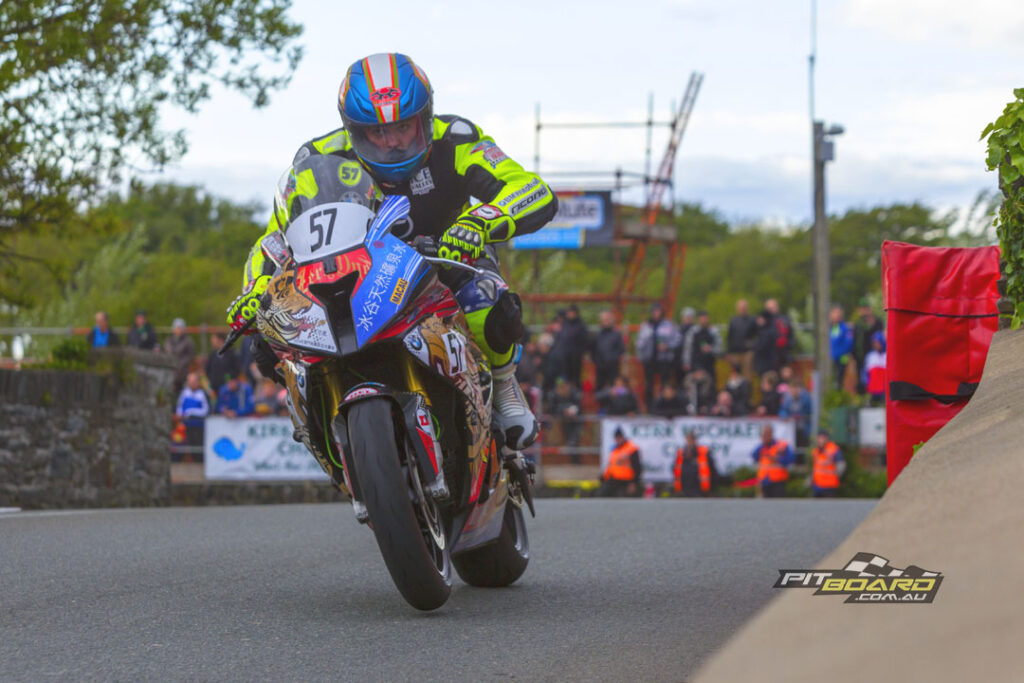 Then practice week got worse.
Alex: "We were struggling to get our six laps of practice due to these bike issues and also poor weather. Finally I was able to get out on my bike after the team got it back together. I was running out of time to qualify so out I went. I nearly lost the front under brakes as I was braking for Ballaugh Bridge on the first lap. That was weird I thought and should have stopped to see what the issue was, but being under pressure to get my laps in I pressed on. Little did I realise my front tyre was going down. I got onto Sulby Straight and as I tipped into the right hand kink at the end of the straight I lost control of the bike. I remember just hitting the limiter in top gear as I tipped in, a millisecond before the bike went into a massive tank slapper.
"I was heading for the wall of a house and was about to jump off when the bike hit the kerb and bounced me straight. You can imagine how fast all of this happened, as I had just hit around 300km/h when I had the tank slapper. Somehow I held onto it and came to a stop at Sulby Bridge. By this stage the front tyre was off the rim."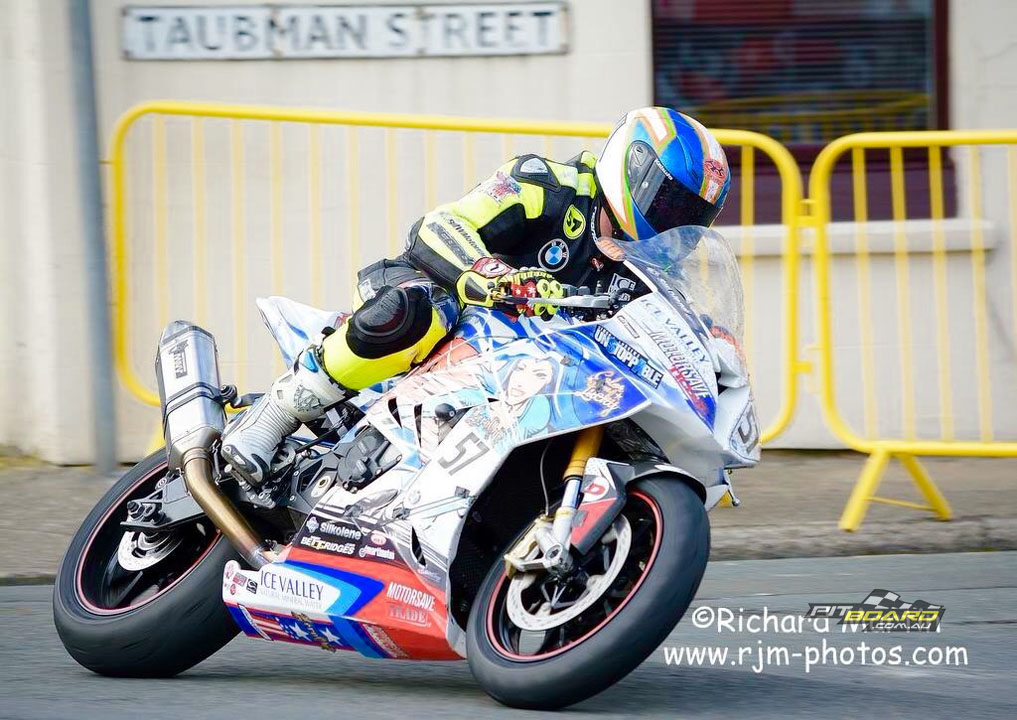 Chris: "I knew something had happened because live timing showed Alex hadn't progressed beyond a certain sector of the course. Then he called me from a Marshall's phone and told me he had a flat. We were able to borrow a van from James Whitham, ex WSBK/TT racer and TT commentator, and I went out with Dan Harrison, one of Alex's mates from Australia, to pick him up. We had to wait until the roads were declared open and while we were doing this I got a text from Cam Donald, asking if there was anything he could do, just to ask. All good I replied, he's just got a flat tyre. When the roads were opened up after practice we joined the course at Kirkmichael. As we came onto Sulby Straight Dan said, "someone's crashed there, pointing to a hole in the hedge." We only had to go another kilometre or so to get Alex but when we arrived he was very agitated, asking us how his team-mate Franck was (sadly, Franck had died as a result). Little did we know it was Franck who had crashed and created the hole in the hedge, and that was the bike Cam had seen. He thought it was Alex because all the Ice Valley bikes were painted the same."
Alex: "That was hard to accept. Frank and I had gotten on very well and this was his first big race after crashing at the NW200 in Northern Ireland 12 months earlier. You could tell he wasn't over his injuries as he was tired all the time. This had happened a couple of times now. In 2014 I had enjoyed a coffee with multi-British Supersport champion Karl Harris. He was a real friendly guy who had noticed me and wanted to give me some tips. I met his wife and kids and they were very nice and helpful to me. Later that day after our coffee together he was killed. We still don't know what happened."

"We still don't know what caused Franck to crash either. In my situation we believe the gyroscopic forces of the wheel caused the valve to pushed down releasing air. In Australia we have to fit steel valve caps to prevent this but at the TT they use rubber caps with seals. When dad looked at the valve on my front tyre he noticed the cap was cross threaded and not on properly. Because I was riding for a well know team, Dunlop technicians would check our tyres before the race. They are no doubt under the pump time wise and to this day I believe that was the case with us. The cap wasn't fitted properly. I should have stopped at Ballaugh when I had a big slide but I felt under lots of pressure to get a lap in to qualify so I pushed on. Then a photo of me turned up when my front tyre went flat, with me in a full on tank slapper, the actual rim on the road and the tyre only being held on by the fork leg. This caused a major stir around the paddock, including the course secretary."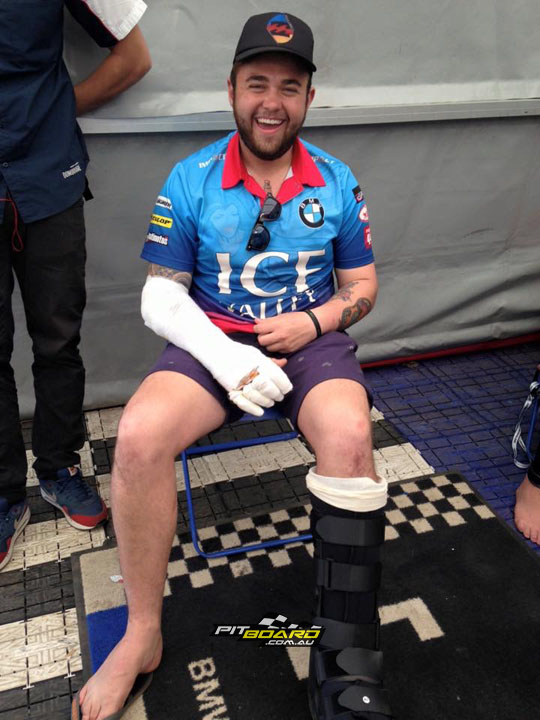 Race week was no better
Alex: "I was only doing the big bike classes in 2015 but never got to finish any of the three races, with a breakdown in the Superbike TT, and a crash in the Superstock TT. We'd had no end of electrical problems due to my crash at Jurby and the bike would cut out momentarily while you were on full song, then as you are shutting the throttle it would then chime back in, making it very difficult and dangerous to ride. As I was coming up to Black Hut during the Superstock TT, the bike had a hiccup again, I looked down for a moment and by the time I looked up again I had run out of road. I slipped the wall at over 200km/h and came off. I was apparently knocked out and slid for some 150 metres. I regained consciousness pretty quickly and was able to get off the track without being run over. I was lucky, only hurting my wrist and badly spraining my ankle. The bike didn't get off so lightly."
Chris: "That was pretty scary. I knew Alex should have come through by now, so something was wrong. I then saw one of the pit lane officials coming towards me, locking his eyes on me. I didn't know what to think, but none of it was good. He got to me and said, "your rider's down but he's ok, he walked to the chopper and is heading to Nobles Hospital now." And that was that for 2015. Alex convalesced in hospital for a few days, we flew home via Dublin where we did a tour of the Guinness factory and he managed to set his wrist bandage on fire in a pub. Then came the task of paying for the crash damage. I worked for a few months for free to pay that off."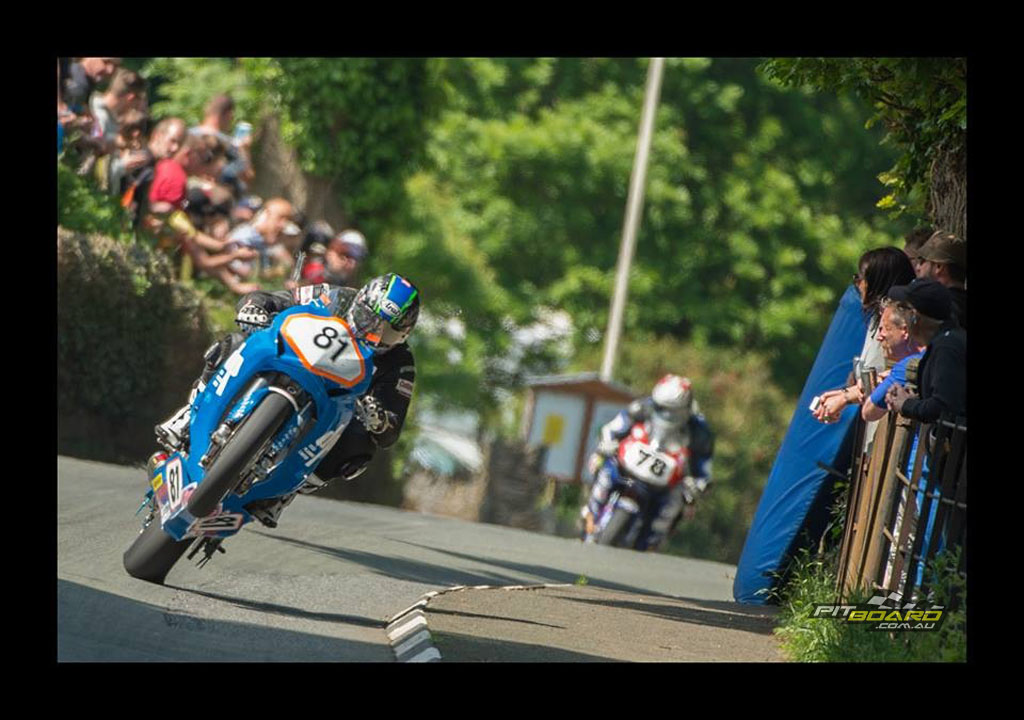 Had Alex run over a black cat? It certainly seems this way. He went it alone in 2016 to race in the Supersport class on his own Kawasaki ZX-6R and managed to win his class in the Classic TT that year too on a TC Racing owned Kawasaki ZXR750. Keep an eye out for the next volume of Between The Hedges…
Words: Stuart Woodberry