When Todd bought his new 2012 CBR1000RR to get back into road bikes after a few years switching to off road, he went to town on all the bling bits he could find. What he ended up with was a stunning black current Blade and there was no way he was going to trash it at a track day.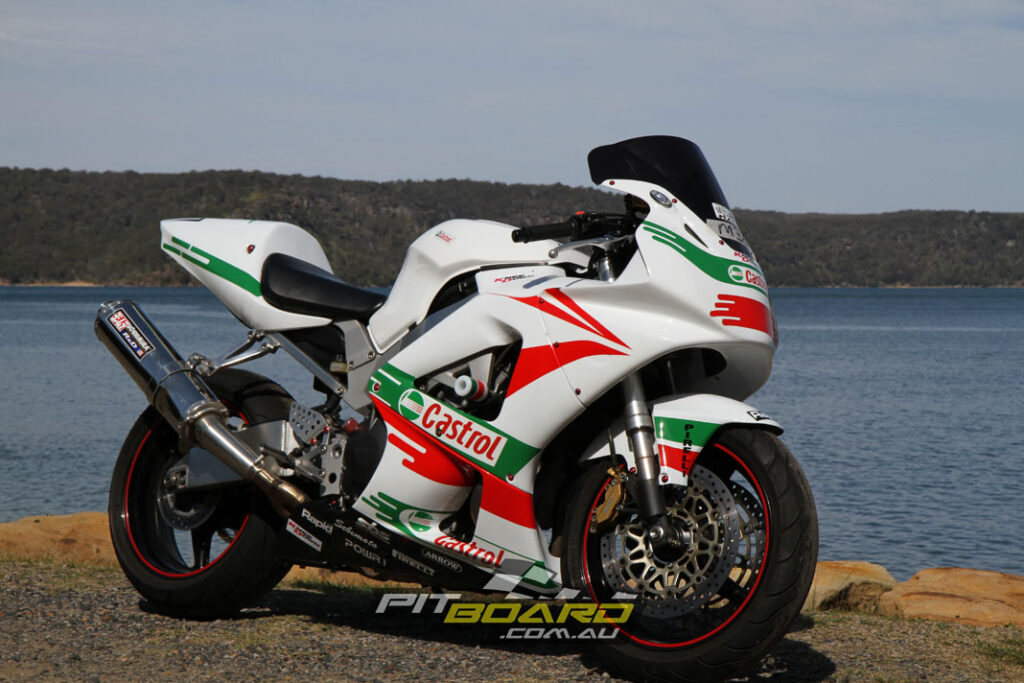 As a qualified flag marshal and a race fan, Todd had always wanted to get out on the track himself so decided to build a track hack just for that purpose. Something that was affordable and would not break the bank too much if it was thrown down the road…
---
Check out our other track bike tests here…
---
After deciding on a big bore Japanese sportsbike, Todd began the search. After many weeks he eventually found this amazing Fireblade on eBay and better still, it turned out to be only 15km from his house. A call was made and a deal struck and later that night Todd had a crashed CBR929 in the shed. Well, in a mate's shed anyway.
---
---
The bike was previously a track day bike and the owner parted company with the bike. It had extensive gravel rash and the tank was dented. It was also dirty and in need of a service and new tyres. A quick visit to eBay saw Todd score a set of Castrol race fairings that were delivered from China for $500. 
"I then filled the dent and had a local smash repair joint respray the tank white, then went over the bike with spanners and checked every nut and bolt, changed the oil and filter, and basically gave it a detail and tidy up".
---
---
"I then got a red Pro Bolt kit from eBay and a screen from the UK. The only problem I encountered on the build was the fairing kit mounting holes were too small for the grommets. But all up I only spent about four weeks on the bike".
Todd purchased every single part online, "There are some great bargains to be had," says Todd, "Don't be turned off by cosmetic damage just add a fairing kit to your budget and any other minor scratches won't affect your lap times!"
---
---
New parts used on the bike include the fairing kit, Pro Bolt kit, screen, oil and filter plus tyres are on the way. Used parts were donor bar ends from the owner's 2012 CBR, heel plates and a chain guard. 
"I couldn't be happier. The entire bike cost less than a repair if I drop my new Blade. I spent just on $3000 and I took it to Western Sydney Dragway for a shakedown ride and ran 10.937@213km/h so that is great. Next up I want to change the gearing, fit new tyres and hit the track".
---
The Build
2001 Honda CBR929RR Fireblade

PURCHASE COST: $2000

INITIAL BUDGET: $4000

TOTAL SPENT: $3000

PURCHASED FROM: eBay
---
Parts List
$500 Hong Kong eBay special pre painted fairings

Fresh oil, filter and brake fluid

Detail and safety check

New screen

Engine bolt kit




---