To understand this eccentric banking heir, who turned his father's small New Jersey Bank into a financial powerhouse, before selling it for over $1 billion, you must first dig deep into your passion for all thing's moto. Close your eyes, imagine the most perfect of scenes…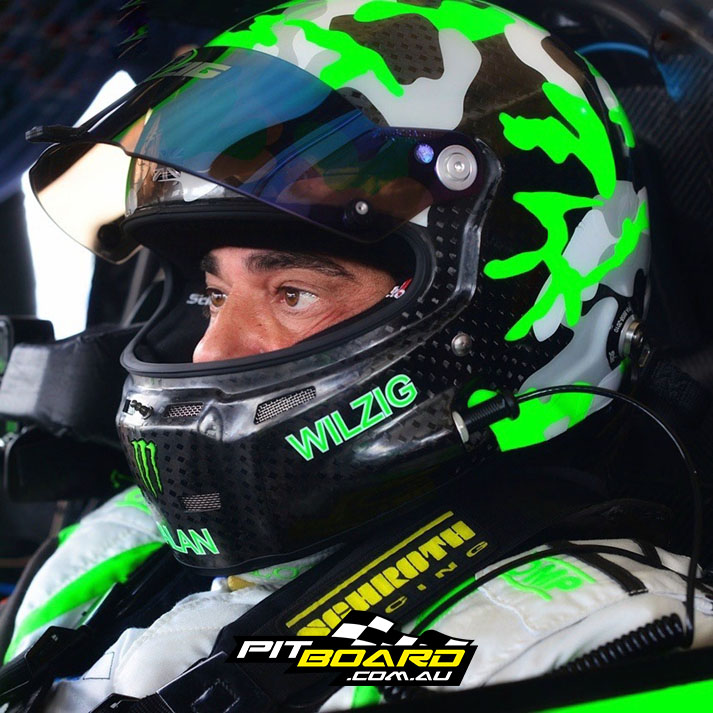 As you leave New York City and head north along the Hudson River, the West Side Highway leads you past the iconic George Washington Bridge, alongside the Bronx and into suburbia. Strangely named enclaves like Yonkers, popularised in TV and film, eventually give way to picturesque farmland.
The Taconic State Parkway is for many, an escape route from the chaos of the city and the burdens of the life that it brings. At the mile 50 marker you feel as if you have been teleported from an Urban Metropolis, as concrete gives way to green fields and beautiful homesteads, while horses and cows gaze lazily at the traffic zipping by.
---
---
For most well-heeled New Yorkers, this Parkway represents a cathartic path to peace and quiet. But for one, Alan Wilzig, the rolling hills and seclusion of Taghkanic, in Columbia County, would provide catharsis of a different kind, best enjoyed on two wheels, or four on the limit of traction.
---
Imagine your own personal professional grade racetrack, a garage, no that's too small, make it a hangar of sorts, filled with exotic race cars and motorcycles.
---
Add to the mix some shifter carts, exotic supercars, a collection of memorabilia and race paraphernalia which resembles a museum and just for good measure throw in a lake with a dock and some jet skis for the summer.
---
---
Once you're done imagining it, rejoin me here to find out what you forgot to include, because I have been witness to a "Field of Dreams" which exceeded everything I could possibly imagine. It is the real world of the "Willy Wonka" of motorsport, Alan Wilzig.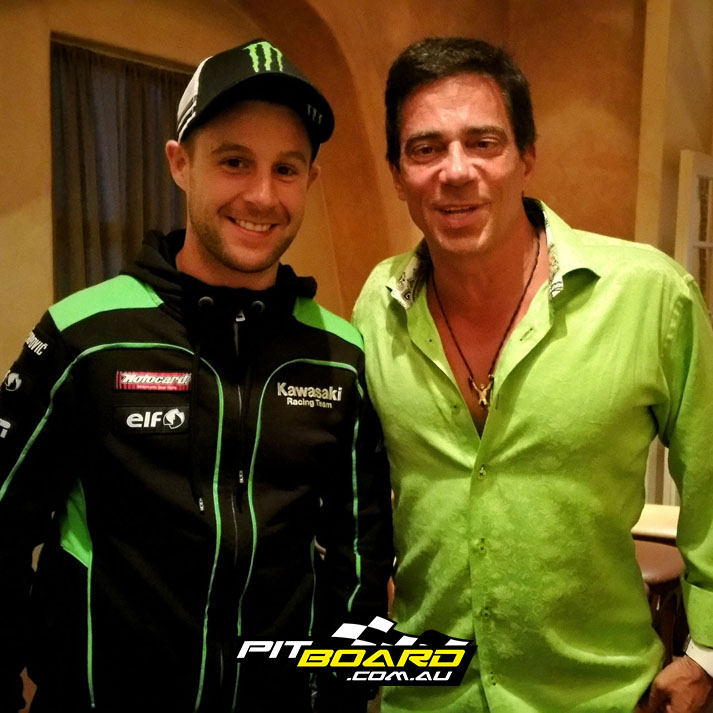 I met Alan on a plane one day a few years ago, we were flying to New York. I was on my way to a MotoGP race. Alan had been doing a three day training program with the Yamaha Champions Racing School. As I settled into the middle seat, a guy in a Repsol Honda jacket inched down the aisle.
---
---
Thankfully he sat next to me and within seconds I was interrogating him about his choice of clothing. The four-hour flight came and went faster than any I have done. We talked non-stop; the stories Alan shared went from the sublime to the ridiculously sublime. As we parted ways, he invited me to catch up again. I wasn't sure if he had just told me the biggest bunch of lies, or I had met the actual Dos Equis guy, you know the one "The most interesting man in the world".
---
ON BOARD LAPS OF WILZIG RACEWAY – You can click here to subscribe to Alan Wilzig's YouTube Channel for some cool videos.
---
Under the best of circumstances, building a racetrack in your back yard is no easy feat. Layer in a broader community used to fighting development, carpetbagging city slickers who want to preserve their quiet and militant anti-development neighbours who live several miles away, who would object to kids hosting a bake sale out the front of their grandparents' house.
---
---
The road to the racetrack was a long one, starting in 2004 and eventually finishing in 2010 after several New York Supreme Court challenges and subsequent appellate court appearances, costing over $10 million. To do this you must be an unusually motivated participant in life at a level reserved for only the most fortunate and dedicated.
His love of bikes and cars dates back to childhood. As a student, his dad, a Holocaust survivor, rewarded he and his brother with a Corvette for achieving good grades. As the most junior of bankers following the Holocaust survivors career path, managing the branch pest controllers and doing every other job nobody else wanted to do, Alan did so in style.
---
---
Trading his Corvette and cashing out his bar mitzvah gifts for a fly yellow Ferrari, a misstep that sent his father into a rage as he chastised the younger Wilzig for expediting the rewards of hard work. Alan's proudest day seems to have been crushed, only to be revived as he heard his father's throaty laugh as he shared the sons scalding with a fellow Holocaust survivor and friend. "Can you even imagine" Siggi Wizig said "That my son buying a Ferrari should be my biggest problem when not 50 years before we were eating dandelions in a death camp to survive".
---
Join Wilzig Racing Manor on Facebook here…
---
Following his father's passing, the Wharton schooled Wilzig assumed the reins at the Trust Company of New Jersey, growing its branch count and expanding its loan books significantly. Where his father had tried and failed to sell the bank, Alan struck a deal in 2004 to sell the company to a competitor in a cash and stock deal that would prove to be a masterful transaction as the acquiring bank was purchased by Capital One a few years later, valuing the stock at a significant premium.
---
---
With the financial means to bring any dream to life, Alan set about building the Wilzig Racing Manor. Having selected a site with gently undulating hills and a beautiful spring fed pond, Alan set about designing the track, draining then expanding the pond into a 25-acre lake and restoring the historic barn and Dutch Colonial house into works of modern art.
The track is a bi-directional circuit, its nine turns feature a banking left hander, a cross over allows racers to cross the circuit and run it in the opposite direction. The conventional 1.15-mile circuit then expands to over 2.4 miles with this clever use of the crossover. There are few barriers to the circuit, instead the runoffs are a mixture of grass and gravel.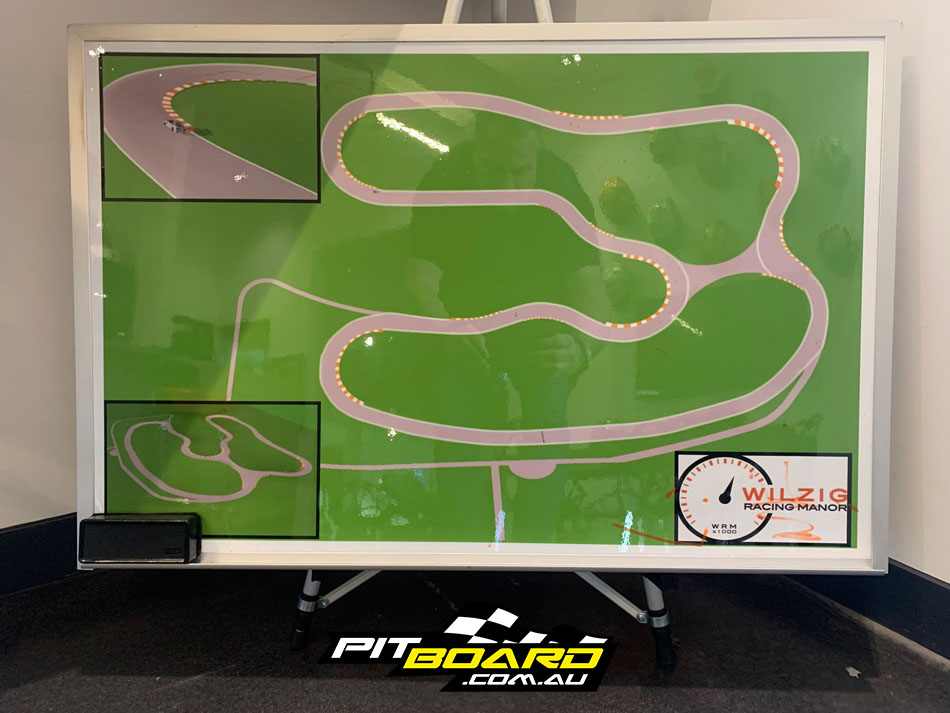 At 90 feet wide, the circuit is wide enough for cars to pass and more than ample for the self-imposed limit of up to four bikes to chase each other around. Why just four bikes? Remember this is the dream circuit, just for you and your friends, it was never intended for commercial use.
The pit lane access roads link to the road network, which services the Wilzig Racing Manor, connecting the residence to the "Wonka-land" moto museum which drew its origins from a Tasmanian emergency services helicopter hangar. Alan, an enthusiast of design and architecture, had seen pictures of the hangar in a magazine and instructed his architects to draw inspiration from its brow shaped roof line and open plan interior.
---
---
The deceptively large building is clad in metal exterior paneling with a soft rusted patina. Nestled in a hollow below the circuit, instead of dominating the landscape it blends in beautifully, especially with the autumn colours.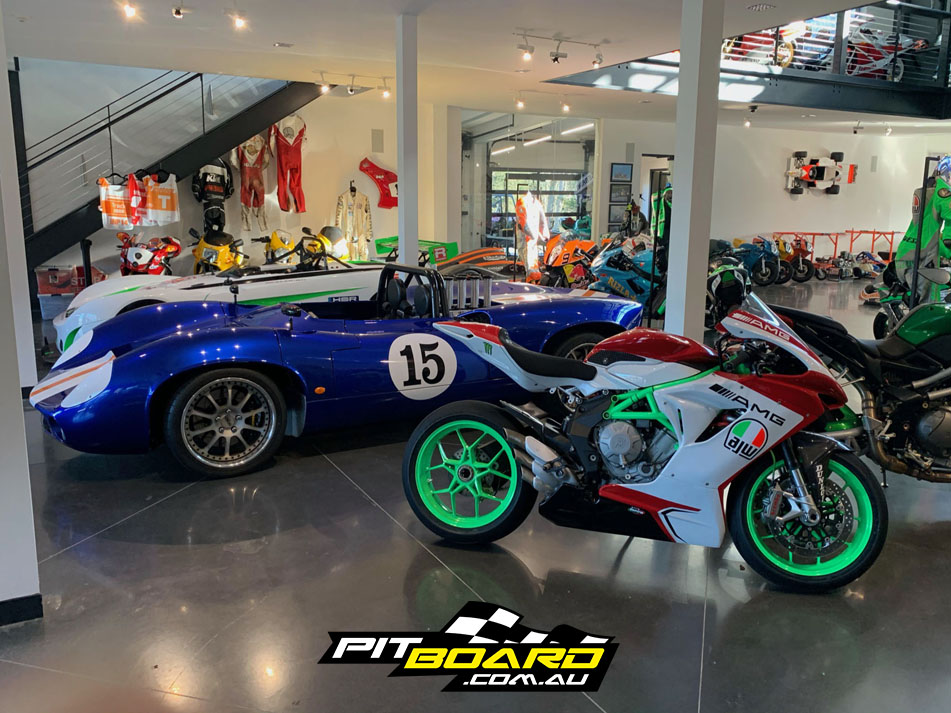 Upstairs placed around the perimeter pathway is the biggest collection of Bimotas I've seen. I counted 28 of them ranging from the first generations to the most current and the V-Due 500cc two-stroke model, which sent the storied brand into bankruptcy and the eventual hands of the Kawasaki group.
---
---
The most interesting of that collection belonged to Steve Forbes of the Forbes magazine empire. So much did he love that bike that he had a Samsonite case made for it, allowing him to pack it into his private jet so he could travel with it to far-off places.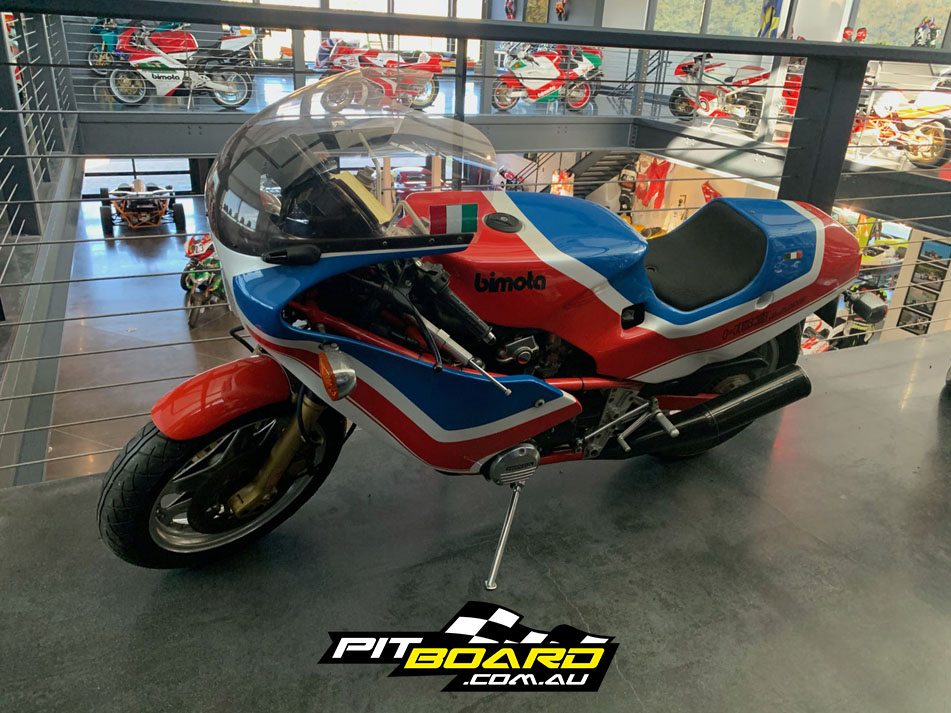 There is no fewer than 14 Ducati's, my favourite being the 1957 Americano, which harkens back to the days of slippery fairings and bravery of those who rode it. The most unique of the Ducati lot is the "hybrid" MV Augusta / Ducati "egg bike" custom commissioned by Alan and painted using the techniques employed by the Faberge for the creation of their exquisite Russian "Eggs".
---
---
The most expensive bike in the collection and the one Alan would most love to ride is the Honda NR750 RC40, a super rare collector bike he purchased a decade ago from Japan. Its speed is only rivalled by its appreciation in value, now the most expensive bike in the collection. No wonder he hasn't ridden it. Oval pistons. Phew…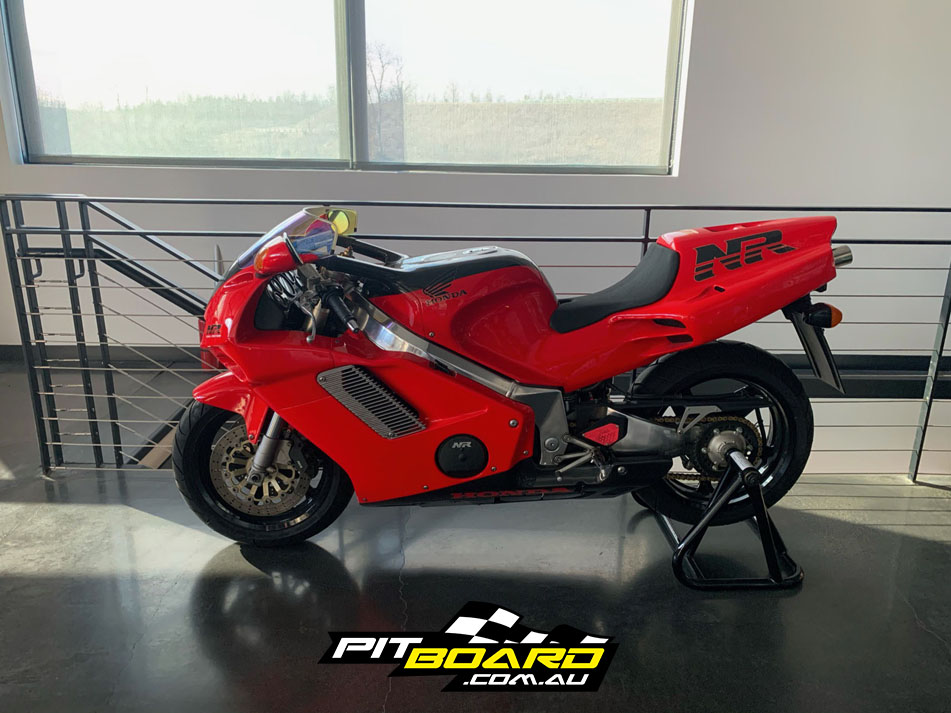 When it comes to riding Alan tells me there really is no challenger to his favourite bike, the Krämer GP2 890R. A purpose-built race bike from designed by the German manufacturer and built and supplied from the US distributor. Alan says it was instantly competitive right out of the box without the need to tune and farkle a street bike like the Yamaha R3 or GSX-R600.
---
---
To encourage his friends to experience the thrills of knee down racing, Alan purchased three NSR50 two-stroke race bikes for visitors to practice on. These little demons absolutely rip and are infinitely "chuckable" allowing beginners to really get the feel for leaning into corners without the fear of being bucked by a full-size race bike and ending up in the kitty litter.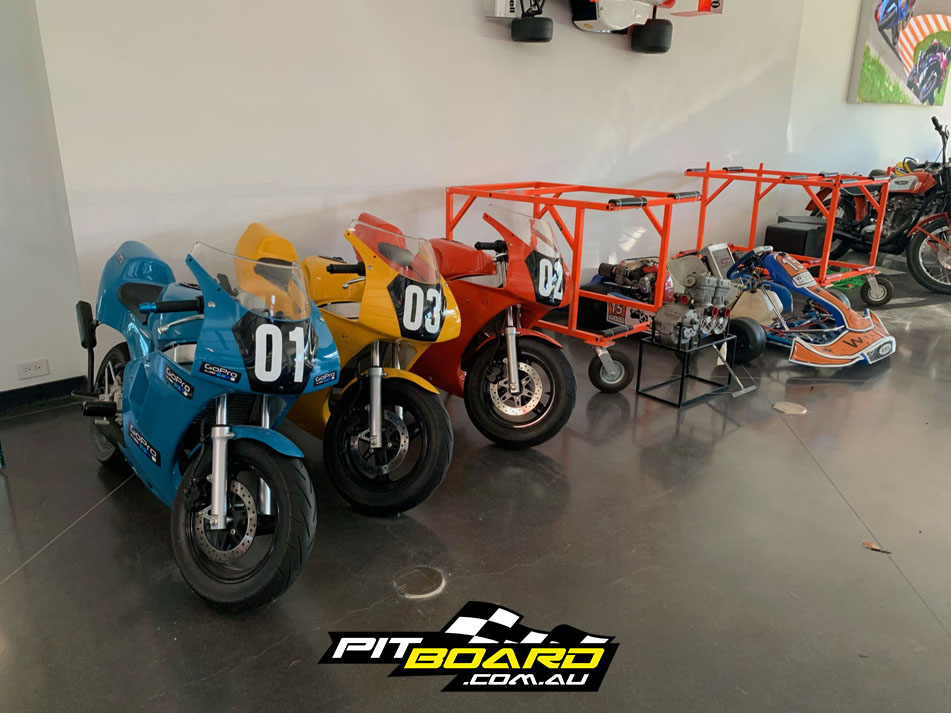 While the circuit is private occasionally Alan hosts charity events, club events and track days for his friends at Audi, McLaren and Ferrari. Alan shared a story of the launch of the Audi TT and a very stoic Audi test driver who declined a couple of laps to get a feel for the circuit. "I have been driving these cars at the Nürburgring and every other continent on earth" he replied, before promptly putting the thing backwards into the mud at the second corner, a tricky right hander which is off camber and is a bit reminiscent of the corkscrew at Laguna Seca.
---
---
Trusted with the care and maintenance of the collection and property is Peter Huber. Keeping up with Alan must be a nightmare because the guy is literally always going 100 miles an hour. Peter's calm demeanour and extensive knowledge of all things mechanical make him the perfect candidate to keep the place in order.
---
---
During Alan's decade of road racing prior to the construction of the circuit, Peter managed his race team and was one of the few guys who managed a 100 per cent reliability record from season to season. Peter knows the bikes inside out and importantly knows Alan. When he is not maintaining the property, setting up for weekend shenanigans or showing people like me around, he is hard at work rebuilding bikes, changing slicks and prepping the bikes and cars for the track.
---
---
After ripping around the track in my little Abarth for a few hours one day while Alan had a sleep in after our big night, I got to wonder whether the barking exhaust of my little rocket would be disturbing the neighbours and if it did, how did they cope with the bikes and race cars ripping laps?
---
---
It turns out the location of the track on the property and the way it was designed means that the neighbours rarely hear a thing and certainly don't complain. In fact, one day when we went into town to get pick up a few pizzas for Alans kids, we bumped into a local guy who recognised Alan as being the "racetrack dude" most likely because of the Red Bull jacket and pants.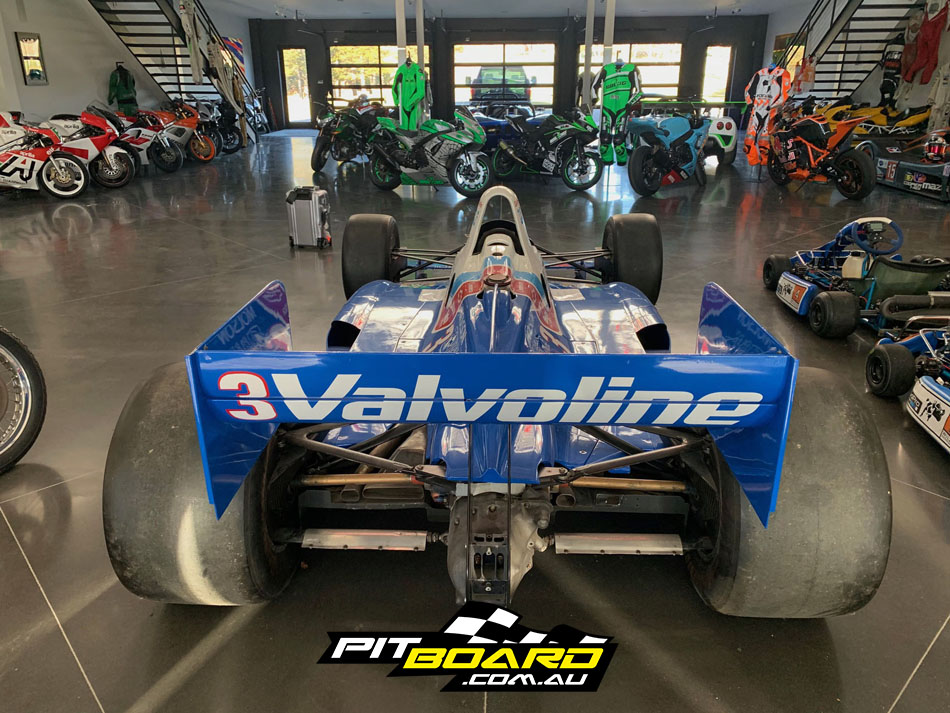 There is little doubt that Alan is living his best life. Unlike pretentious 'collectors' who covet the machine, Alan covets the speed and the experience, sharing the passion with his friends. For lovers of motorcycles and cars the Wilzig Racing Manor may well be the "Field Of Dreams".
WILZIG RACING MANOR FLYOVER VIDEO
---
---
WILZIG RACING MANOR GALLERY
---
---
---
---
---