Taking the plunge from dirt to tar can often be a confusing experience. At first, bikes seem to handle like rubbish on the road. Steering is all out of whack, you run wide, all sorts of things. I'll never forget the first time I rode a road bike.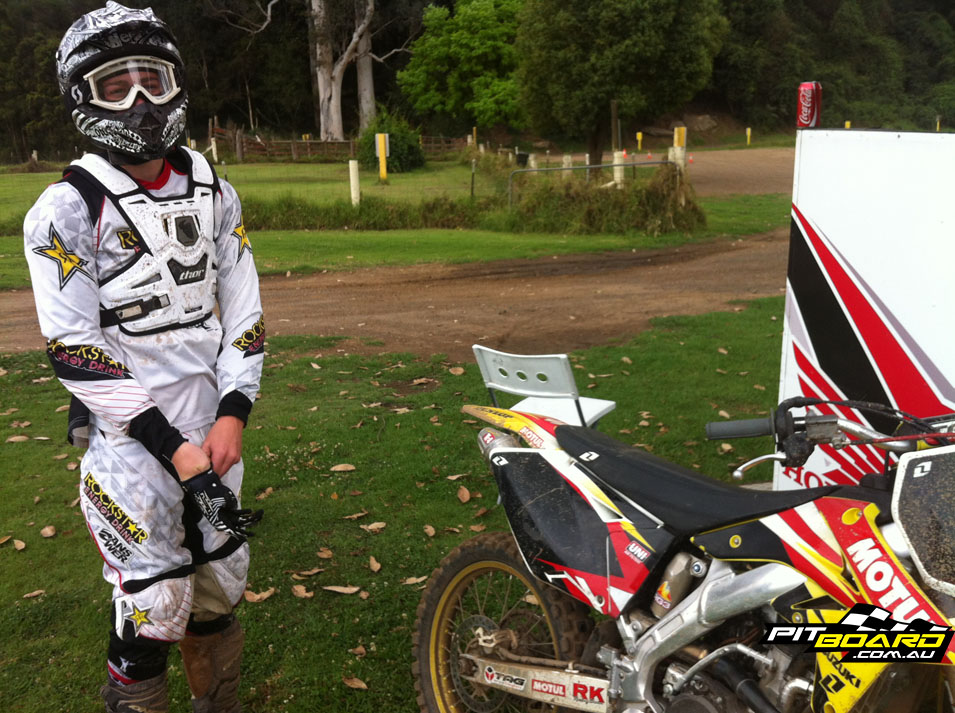 It was an RZ250 and I went down the street and as soon as I got to the first corner I couldn't make the bike turn! I ended up on the wrong side of the road and could not work out why. For this reason, it's important to get some basic skills on tar and some coaching before making the transition to riding on the street or on a crowded track. 
NICK'S EXPERIENCE
Nick Ware has been riding for four years, starting out on a minibike when he was 12, followed by a YZ85 big wheel and then his current bike, an RMZ250 motocross bike. Nick's always been interested in tarmac but also enjoys trail riding and dirt track just for fun.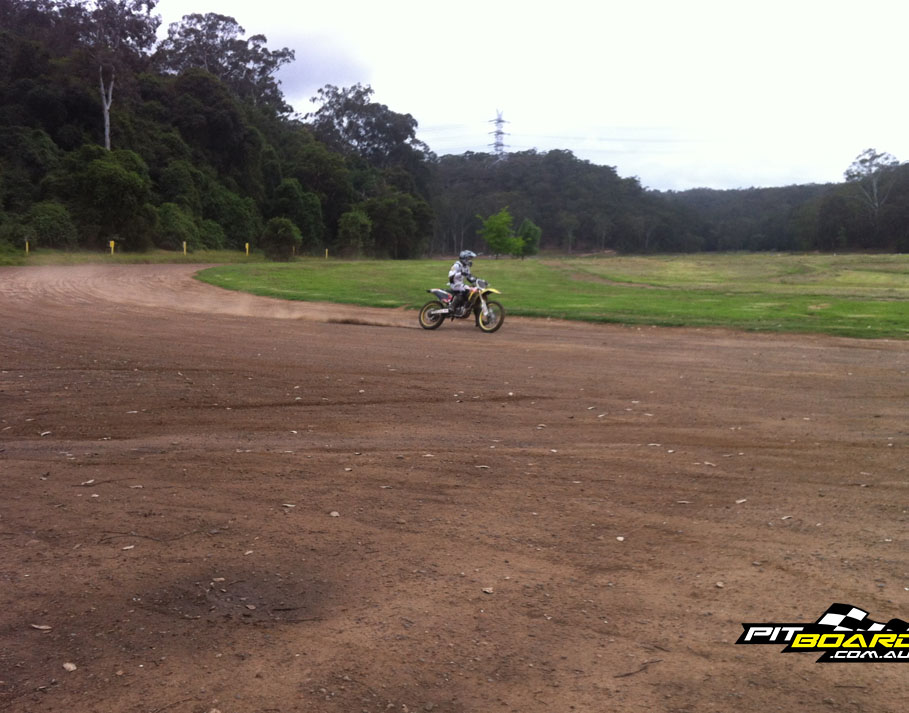 I've wanted to brush up on my dirt skills over the past year so we've been hitting the local track together on weekends and sharing the RMZ with the plan that once Nick is up to speed on the bike we can convert it to a motard and have a crack on the tarmac using the RMZ, starting off with a few track days before doing club racing in the 250cc single-cylinder class once he turned 16 and got his senior MA licence.
---
Check out all of our features here…
---
After plenty of weekends on the dirt we were both doing the same almost identical lap times of the dirt track we were using. I knew then it was time for Nick to try tarmac so we gathered up the parts required and converted his RMZ250 to a motard overnights. We used Motosprint 17in wheels, a Motosprint sprocket and NG Racing oversize front rotor with caliper extender.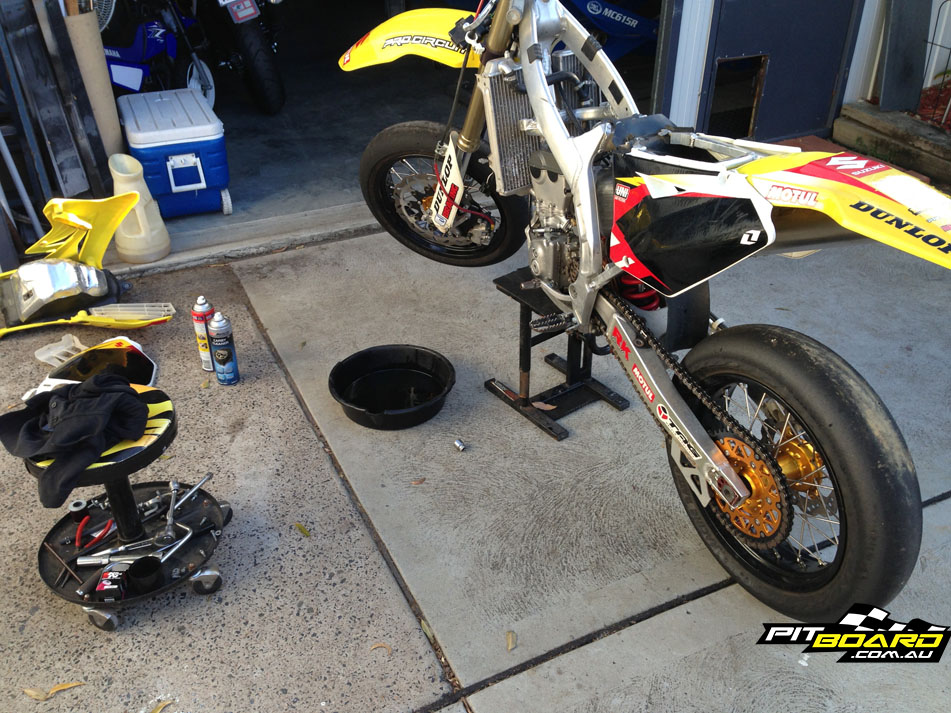 We also fitted Bendix carbon-matrix brake pads and Venhill brake lines. A set of Bridgestone slicks went on and we firmed up the suspension ourselves. The next issue was gearing but we eventually found that Link Int did a 16T front and 39T rear for the bike, easily giving us what was required for The Farm and Eastern Creek. 
With an old set of my leathers plus my spare helmet, gloves and boots in his gear bag, Nick headed to The Farm to tag along with one of our tests. It was his first experience on tarmac and with only the three of us riding the pressure was off and he could relax and ease into it without fear of being run down by a 1000cc superbike at full tilt!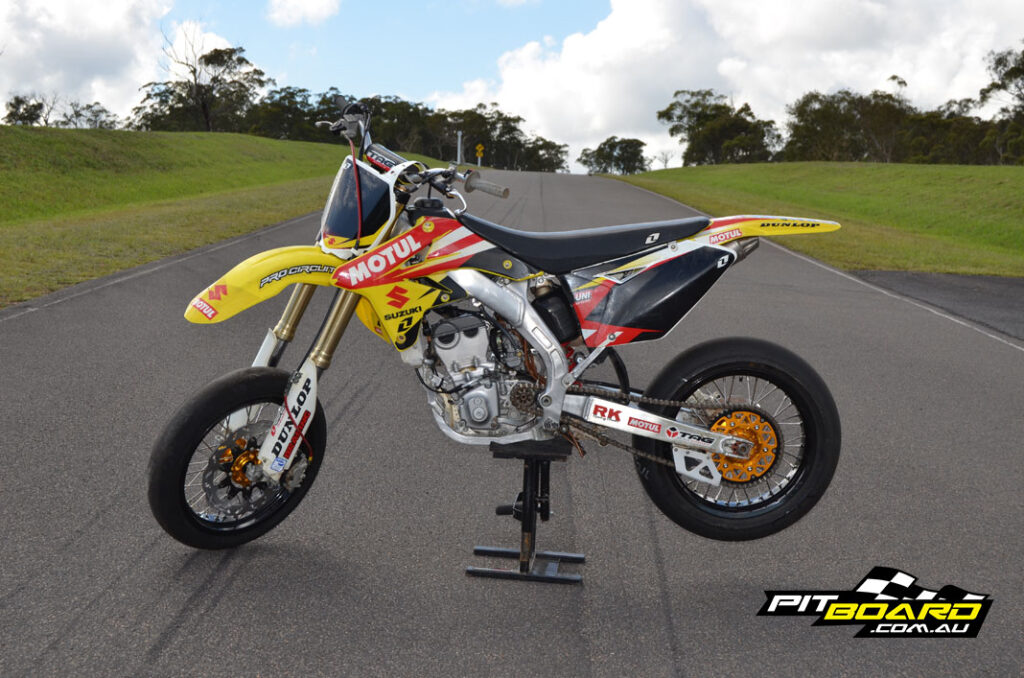 "The first thing I did was run wide everywhere," says Nick, "As there is so much grip the bike does not slide around. When you open the throttle the bike wants to go wider than it does off road when the wheel spins."
"Once I got used to the grip I started to push more but felt uncomfortable as I was sitting on the bike like I was still on the dirt. I felt uncomfortable and awkward hanging off and I was holding on too tight. Later in the day when I was going much faster, the hanging off came naturally and the g-forces from cornering supported my body and I could hang off and relax my arms. As soon as my knee touched down for the first time it all clicked and I was able to understand the way the bike was behaving more."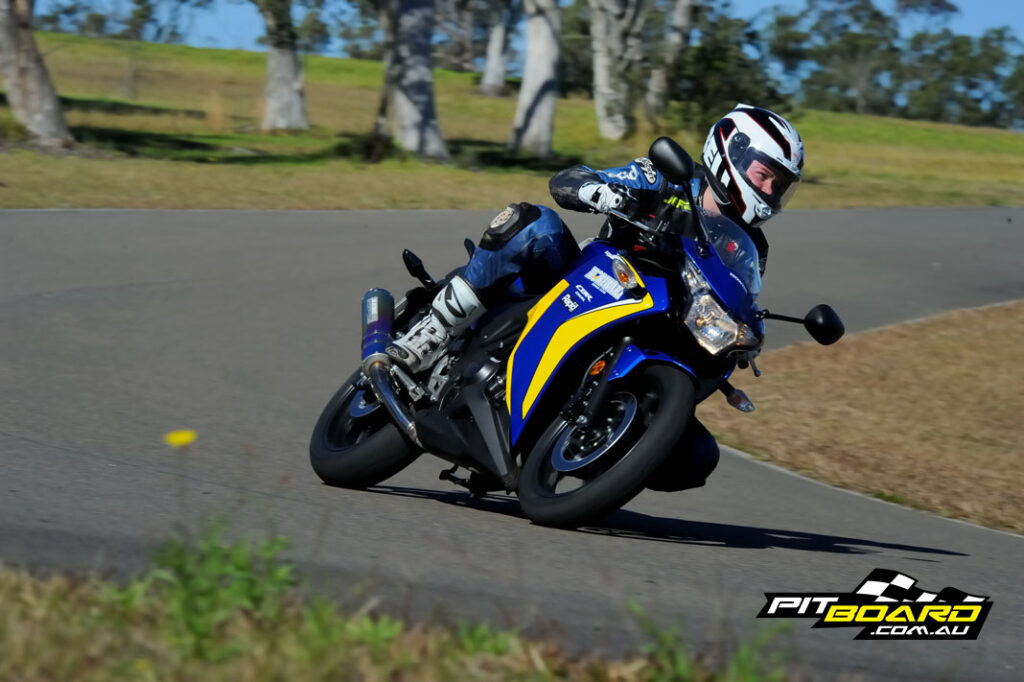 "In the arvo I peeled into the first of the Esses and suddenly I was on my arse sliding down the road! The front just folded so quickly compared to on the dirt. I didn't get hurt but got a shock. I hopped back on straight away and was back into it but could not bring myself to push in that corner or get my knee down for the rest of the day. It was the first time my confidence was rattled but Jeff talked me through my mistakes and I understand why I crashed now"…
The following week we headed to The Farm again for another afternoon where Nick just did lap after lap after lap, getting used to tarmac and limits. We also got a few hours there in the rain one day, which was fantastic as he really clicked in the wet and got plenty of laps in too.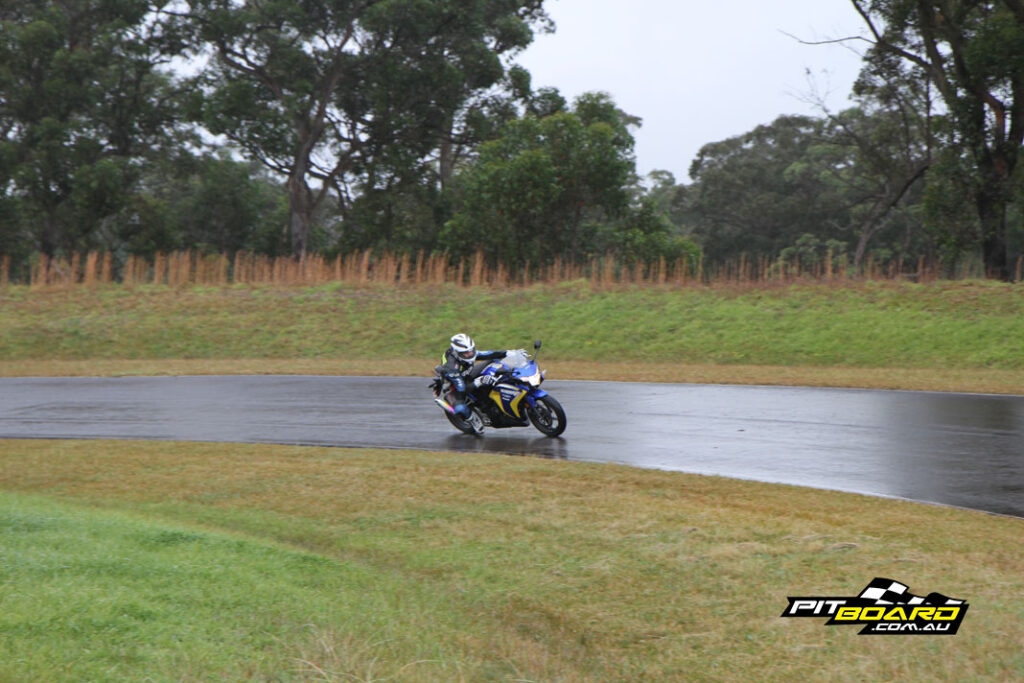 Having turned 16 Nick was able to join St George MCC and get his Senior MA Road Racing Licence. The next step was to head to Sydney Motorsport Park for an Eastern Creek Ride Day. We both booked into White Group so Nick could follow me on our CBR250R Moriwaki on his RMZ250. We arrived early and set up the pits in time to make sure Nick did not miss the all-important rider's briefing and special briefing for first timers. Once that was over and the bikes were scrutineered it was time to head out and Nick did the sighting laps with the other first timers behind an Eastern Creek Ride Day official. I then headed out and caught him and we rode together. 
"I was so nervous before that first session it wasn't funny," admits Nick, "I'd never ridden with other riders so was really concerned as my bike only has a top speed of around 170km/h so I thought I was going to get run down! There also seems to be more pressure to know all of the rules and flags and there is a lot to take in. But once that first session was out of the way I was ready to go and had fun. Until I crashed and chopped my finger"
---
---
Yep. Unfortunately just when Nick was getting confident he lost the front end in the old T9 and his right hand pinkie got caught between the 'bars and the tarmac. Ouch. Microsurgery and lots of skin grafts and recovery followed this, but as soon as he got the all clear he was back out there. This time learning to ride a road bike, the next step in our plan…
With a totally different riding position to the RMZ, our CBR250R Moriwaki gave Nick the experience required to get comfy in the road race body position and he immediately gelled more with the road bike than his RMZ.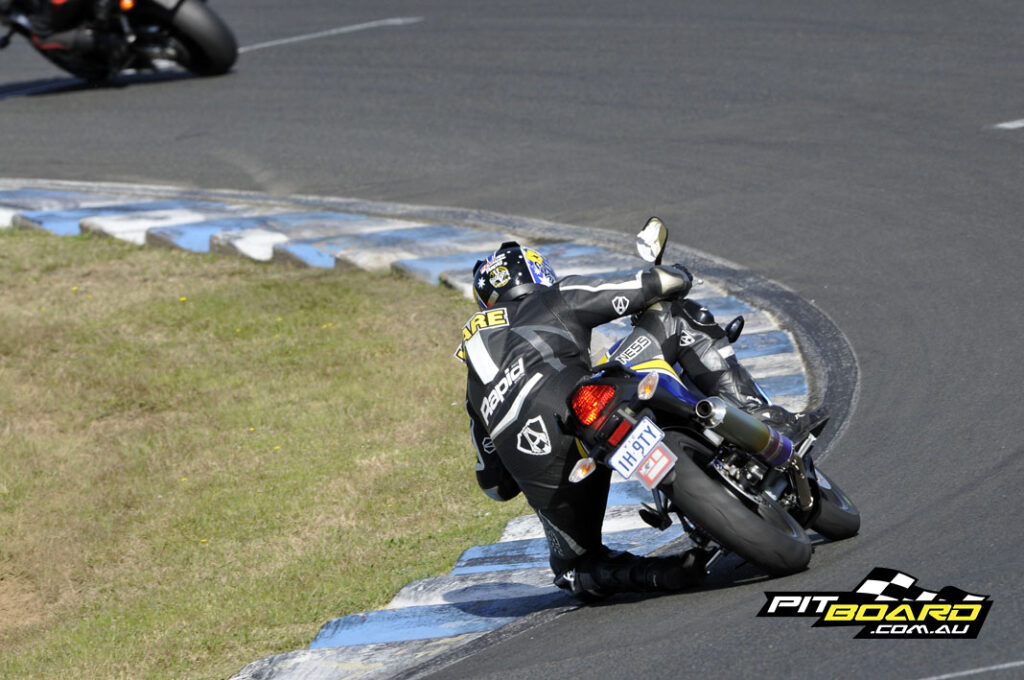 "The first time I rode the Moriwaki was at SMSP and I was nervous about hurting myself again so took it very easy, just getting used to the seating position. I preferred it and liked tucking in down the straight as well as finding it easier to scrape my knee and use my knee as a third wheel. The next time I rode it was in the rain at The Farm and I did laps for three hours without crashing! I really got my confidence back that day and enjoy the wet".
---