Heading to Wakefield this weekend and MA say they have next to no idea who is going to "take things by the scruff of the neck". When ASBK speak of "Championship" they nominally talk about the Superbike Championship, but frankly, MA could be talking about any of the championships racing under the ASBK Banner! Press Release: Motorcycling Australia.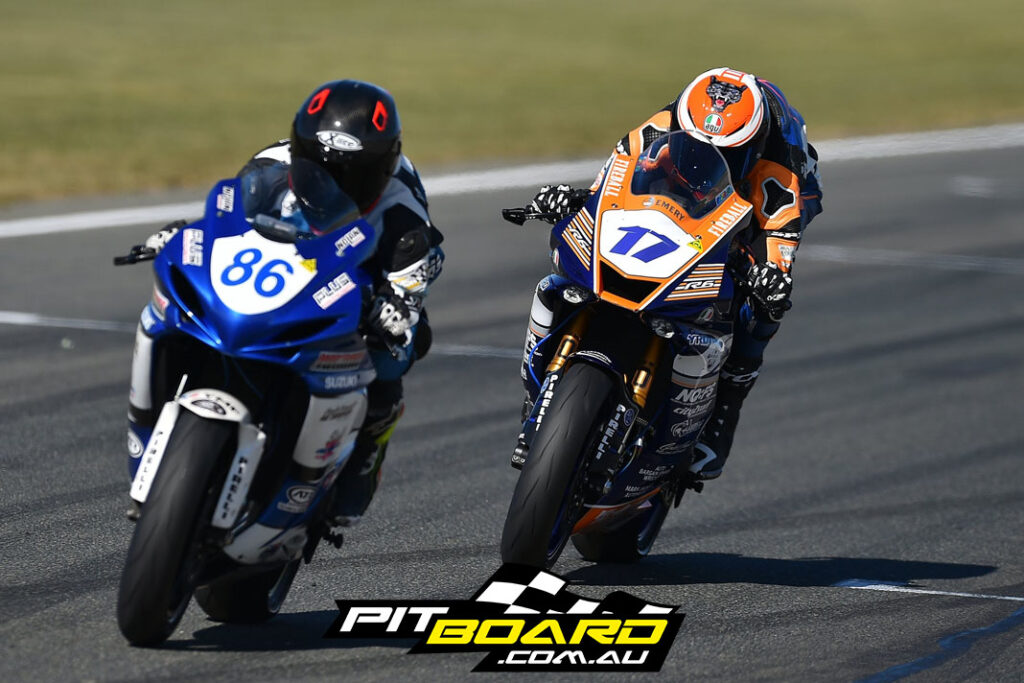 With practice and qualifying for some categories underway today, make sure you grab your tickets now and head down to check out all the racing action this weekend at Wakefield Park. You can grab your tickets now here! $25 for Saturday, $35 for Sunday and Kids aged 0-16 get in for free! Head here for all the spectator info.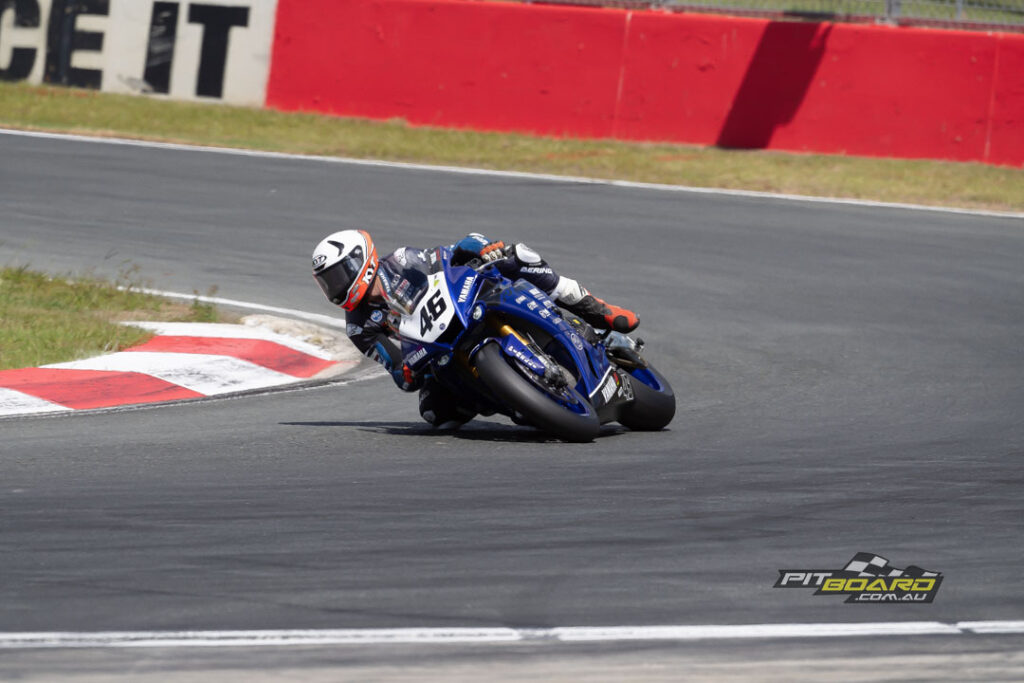 So, with Australian schools having finished term one just ahead of Easter, MA have offered a [weird – Ed] school report by way of an event preview…
Superbike
Mike Jones continues to be a star student and despite moving schools over the summer, he seems to be able to get down to work and up to speed quickly. Outstanding work in Queensland has him at the top of the class and while there is plenty of racing to come, MA say they see no reason he can't continue to remain the potential dux of 2022 thanks to his work ethic and talent. MA rating 8.5/10
---
---
Phillip Island saw Bryan Staring display that he can be the best in the class and that despite some unforced absences last few years, when he has all he needs, he can star. Round Two brought things heavily into focus, and perhaps showed that copying Wayne Maxwell's work from Round One was less than ideal with a 16th and 2nd creating just a fraction of confusion and doubt about Bryan in 2022. MA rating 7.5/10
Like former team-mate Bryan Staring, Josh Waters had been somewhat absent in recent years, but thankfully never lost his desire to race and win. Landing a late enrolment at the Maxima Oils squad might have been his best option, but the timing has not proved an issue. He has put his signature strong work ethic and positive energy towards making things work, and work they have. If someone said "Josh will be third in the championship after round two" we'd all agree that would be a fantastic outcome. MA rating 8/10
---
---
Always worth listening to in class, Wayne Maxwell was typically expansive on why he's in the class of '22. "I like being challenged, if I'm not being challenged, I can't really see the point". The expression "be careful what you wish for" applies here. You want a challenge? Yeah, you got one fella. A mathematical challenge. Twenty-two points down with a maximum of 250 odd points available for rest of the season. Plenty of work to do. MA rating 6/10
The thing about bad luck is that it can't last forever. As Douglas Adams said in The Hitchhikers' Guide to the Galaxy"- 'Don't Panic.' Illness at Round One followed by an engine issue at Round Two has made Glenn Allerton's results look worse than they ought. When he's right to go, then he'll be right up there again. Needs to respond with excellent results for the rest of the season. MA rating 6.5/10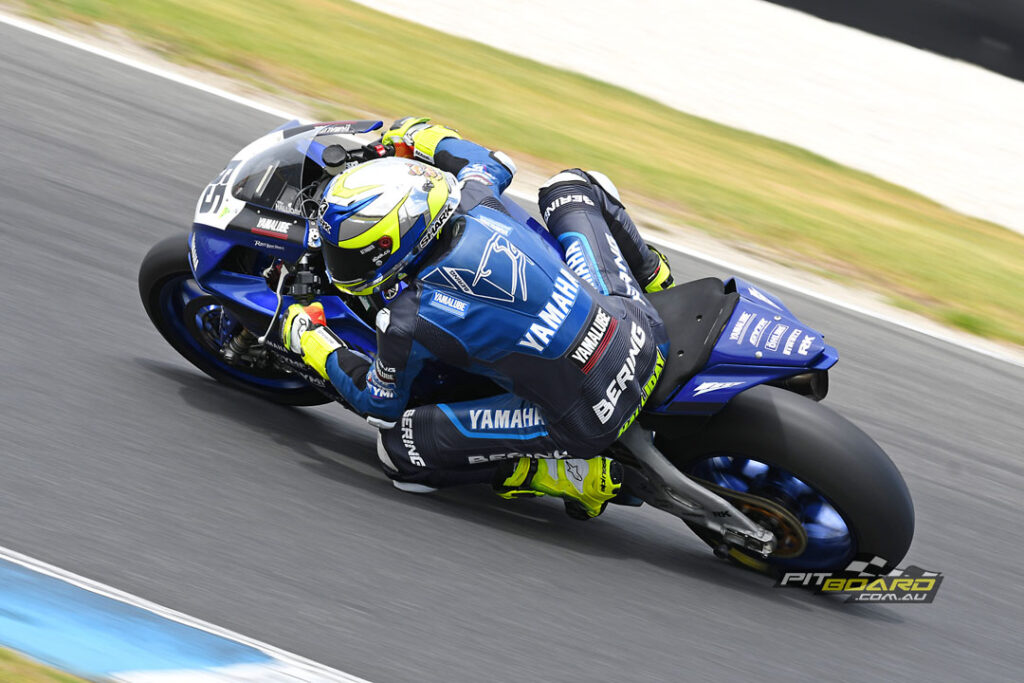 Earlier this year, ASBK threw down the challenge to Arthur Sissis; go from a top ten adjacent student to a contender. He might have taken that on board. Round two saw a 7th and 4th and now up to 6th in the championship. The understanding that effort is a talent multiplier is paying off. So, after just two rounds, ASBK get to ask again; can he take it up to the top 5… the top 3? Get busy young man. MA rating 7.5/10

At the start of the season, MA say they had a feeling that "Cru Halliday could be the boy most likely" to challenge Wayne Maxwell for the dux of '22 and he just ground out the best result possible at Phillip Island when the #1 plated Ducati just seemed to have skipped a year ahead. Very solid podium results at Round One went sideways at Queensland with 5th and a DNF. This was a disappointing low points haul, and he knew it. With his teammate atop the podium and taking the maximum 51 points, it burned a little. MA rating 6.5/10
---
---
A solid start to the season at Round One was cruelled by absenteeism at the early part of Round Two and that has seen Daniel Falzon 8th in the title chase when it was all looking a lot more promising. With the calendar shenanigans out of the way, a supportive and quality team around him, he's still well in the hunt for podiums and a solid season result. MA rating 7/10
You can't keep a good man down forever, but apparently, you can for Round One and you can try to do it at Round Two. Round One was one we'd all rather forget for the red bike of Troy Herfoss. Just 18 points in the bank and more worryingly a sense of helplessness and confusion. The normally all-pro, all-the-time Penrite Honda outfit were ticking the wrong boxes on the multiple-choice questions. Commentators and pundits alike rightly talked Troy up, but there was plenty of evidence that a return to the top was not happening any time soon. Round Two showed signs- positive ones. Sixth in race one was a solid pass mark. As he returns to his roots in Goulburn, there's promise in the air. Let's see. MA rating 5/10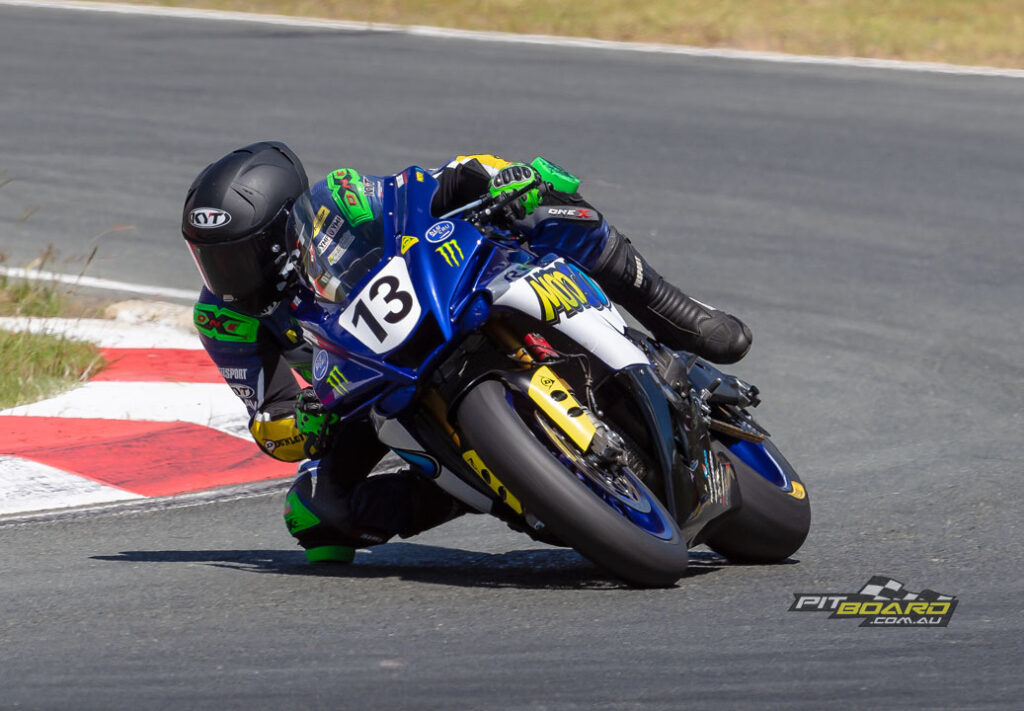 ASBK's famed mature-age student has just been off on an excursion to Europe and as we head to Wakefield, one cannot say with any authority what we will get from the ludicrously talented lucky Ant West. The blunt instrument that is Westy's style was in full effect when asked about the team's prospects. While they were working hard, they seemed to be working on all the wrong subjects and the bike went slower at every opportunity.
But MA say they have faith. As Anthony Doerr says in All the Light We Cannot See, "A real diamond is never perfect." Or- perhaps more prophetically- "A weed is but an unloved flower." ― Ella Wilcox MA rating 5/10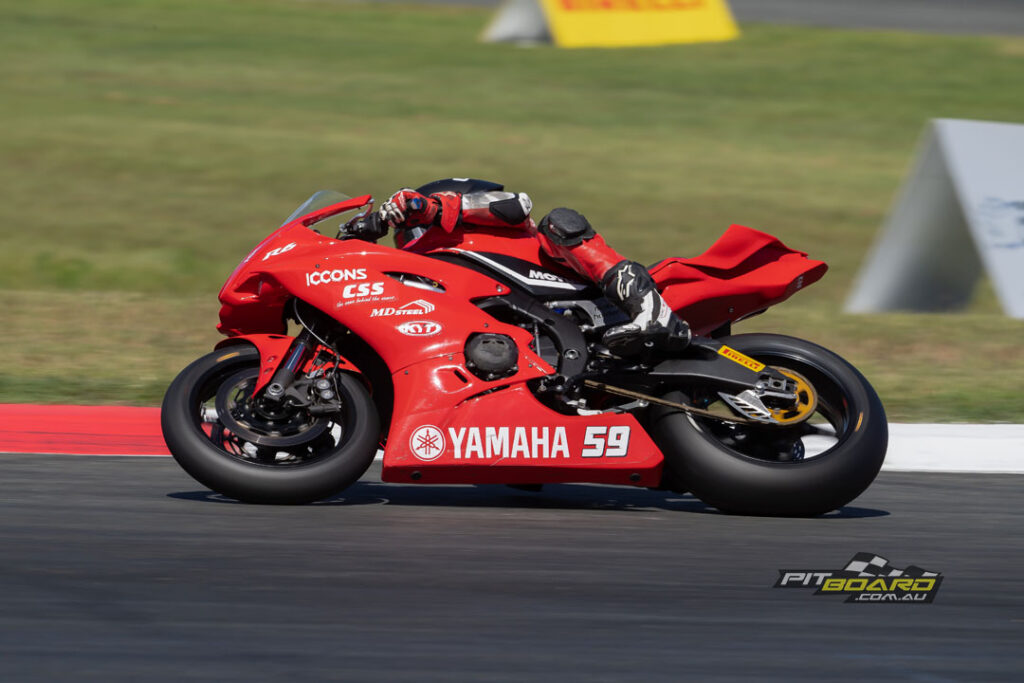 Supersport 600
The number one thing in the Supersport class of 2022 has not been a rider; it's confusion. From Round One winner Senna Agius promptly leaving the country for overseas learning in 2022 to the exclusion of nominal Round Two winner Tom Edwards- who is now also off to Europe for some WSSP experience, MA say they're left to ponder- what the…?
After Round One, Tom Bramich was the nominal series leader in the absence of Senna Agius. He took this news on board and promptly DNF'd race one but recovered with a fourth in race two. Lytras, Nicholson, Lynch and Drane all showed signs that they were interested and capable of solid results, but it would be the baby-faced assassin Olly Simpson who would depart Queensland Raceway with the apparently heavy burden of Championship leadership. ?/10 MA say they have no idea what's going on there.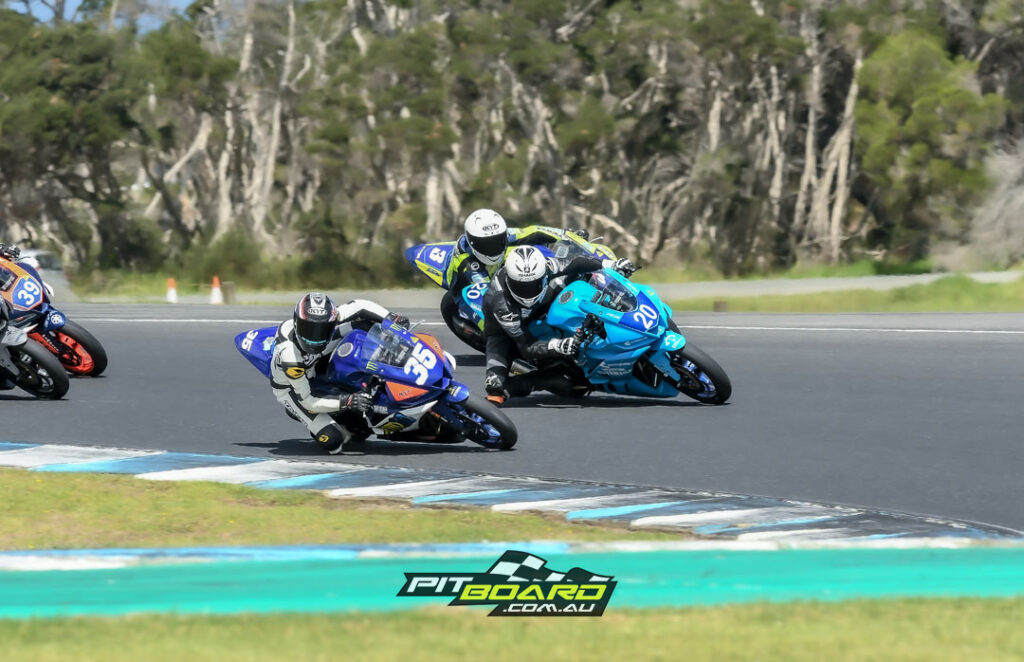 Dunlop Supersport 300
After some unruly machines were suspended from the class of '22 at Round One, the pundits threw their papers and plans in the air like confetti. It would be Henry Snell who would emerge from the smoking ashes with the Championship leadership. Round Two would be a challenge for him, with just fourth for the round, but enough to hang on to the lead. Nelson, Dunker and Jacobs are all rightly regarded as likely contenders for the rest of the year, and the Wakefield circuit will be very interesting with the usual tight racing likely to happen – yet again. MA rating 8/10 for the whole field.
Yamaha Finance R3 Cup
Some familiar names from the 300 class reappear in the Yamaha Finance R3 Cup, though in a different order. In this class, Glenn Nelson has been fast- and critically- consistently attending the podium. Dunker might have shaded him at Queensland Raceway, but Nelson leads the series by some 12 points.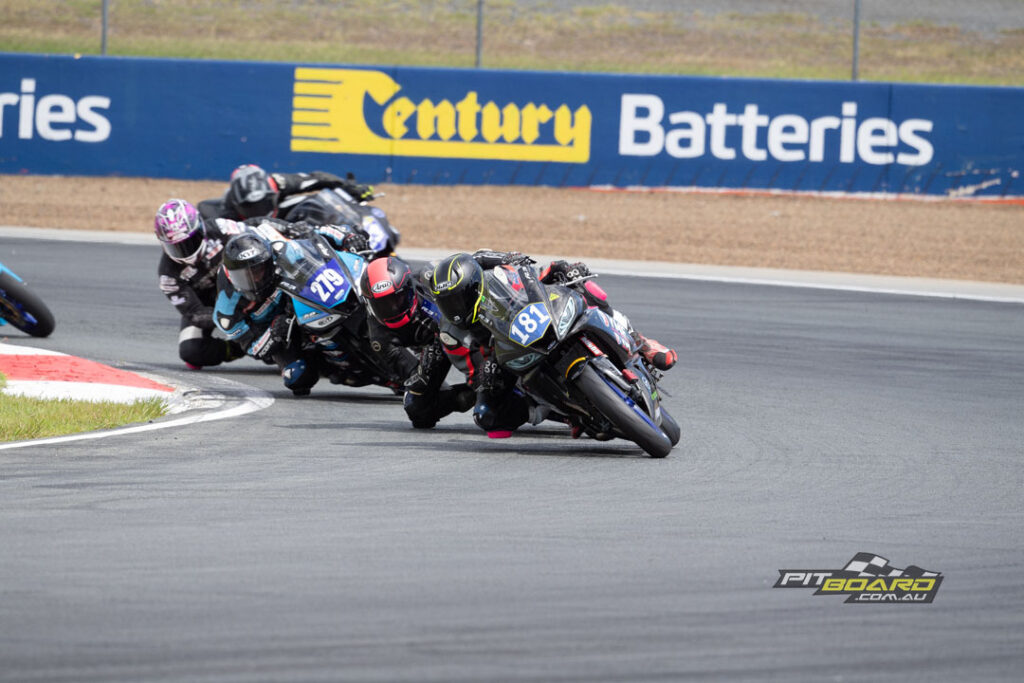 Snell, Hayden Nelson, Russo, Aksu, Simpson et al can all contend for wins, but even a glance at the maths shows that they can't afford to let Glenn Nelson just saunter off with the title without a fight. MA rating 7/10 "see me after class for some remedial maths lessons."
Oceania Junior Cup
Predicting the OJC results is like predicting the landing site of an errant satellite- either way, it's going to end in a mess. Garry McCoy is the rider coach/teacher and has had his work cut out for him from the get-go as the red mist has descended upon this junior category from time to time and while you can't always get passive kids to fire up, it's also hard getting fired up kids to calm down.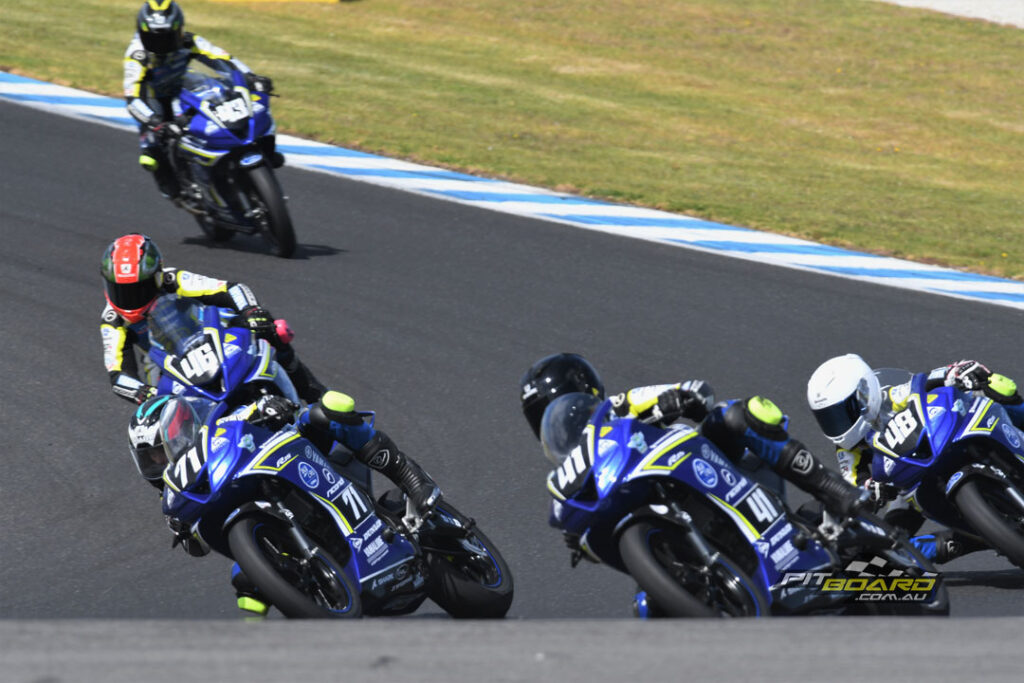 But consistency of message and methodology will surely pay off and after some stern parent-teacher interviews, all looks good for the remainder of the season. Harrison Watts leads at present by 12 points from Cameron Rende and Hudson Thompson. Ahead of points and series leaders, what one really wants to see in the junior class is progression- and not just in terms of lap times.
For the class of '22 to graduate to the next class, McCoy really wants to see progression in all things; maturity, attitude, understanding, listening and then see what results that brings on track. Garry McCoy MA rating 10/10, the class… a bit less. For now.
---
2022 Australian Superbike Championship Calendar
Round 3 Wakefield Park Raceway, Goulburn NSW 22 – 24 April 

Round 4 Hidden Valley Raceway, Darwin NT 17 – 19 June 

* With Supercars – SBK Only   

Round 5 Morgan Park Raceway, Warwick QLD 5 – 7 August 

Round 6 Symmons Plains Raceway – Launceston TAS 20 – 23 October 

Round 7 Phillip Island Grand Prix Circuit, Cowes VIC  – 18-20 November 

Round 8 The Bend Motorsport Park, Tailem Bend SA 2 – 4 December 

ASBK Night of Champions Dinner – The Bend 4 December