The past does not equal the future, just because you are not good at something, it does not have to stay the same. Take Anthony West for example. Ant's first wet track session was far from successful; I can still remember footage of Ant on TV sliding through the mud at Phillip island!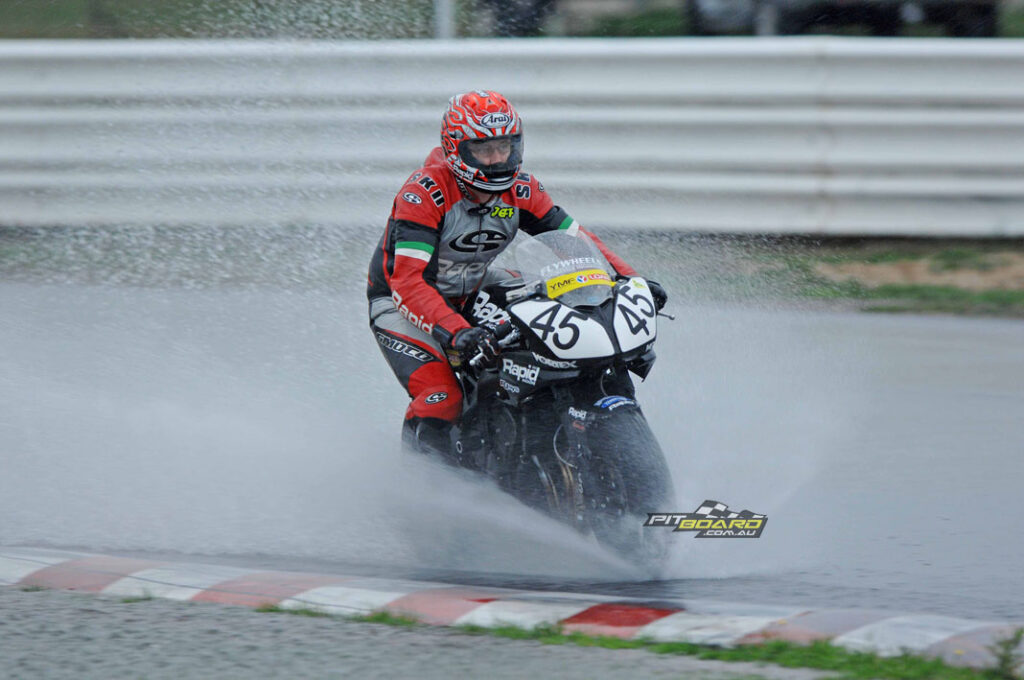 However he worked on his weakness so well that these days if there is rain the lad is considered the master. Tony Hatton was also exceptional in the rain, so what skills do Anthony and Tony share, given that both these riders are generations apart? The one constant is that both Tony and Anthony have enjoyed the benefit of dirt track racing. Dirt track racing teaches you the feel for grip; the trick to road racing is to be able to ride on the edge and to be able to ride as if you are out of control but staying in control.
---
Check out our other riding training articles here…
---
Wet weather riding requires a brilliant system of control, smooth efficient riding style, knowledge of body English skills, what the bike is doing is just paramount, heck if you are untidy, lack discipline and can't find the same line two laps in a row in the dry, then you are in for a rude shock come your first wet weather session.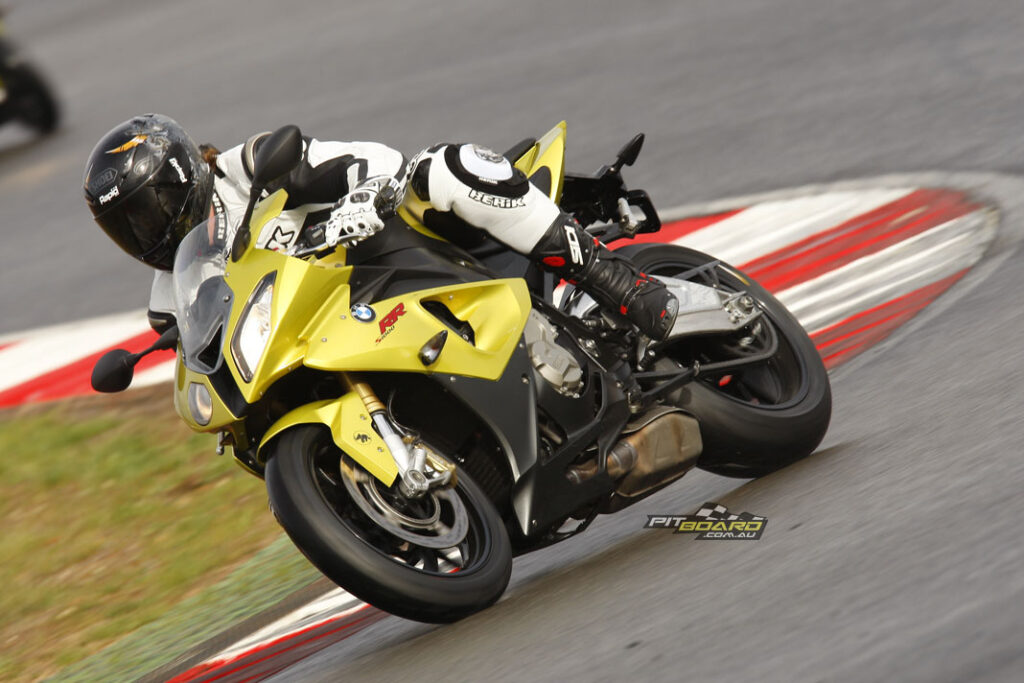 So what makes your wet weather race or track day successful? The answer is a good plan! This includes bike set up, personal riding equipment, rider technique, mental focus, race start and race plan, and the ability to shift and plan ahead in changing conditions with a cool head is paramount! Slow and steady will always win the race. 
Concentration is and should be heightened in the wet, however in a relaxed state of mind by planning ahead, scanning the track for puddles, camber, humps and bumps.
---
 The sensation and intensity that riding in the wet offers is awesome, very satisfying, if you don't feel this way work on it!
---
Remember the job is to be the first bike and rider over then line on the last lap. Trust your plan, let it work and you could be crossing the line first like a top rider with ease.
BIKE SET-UP
Back off the springs and damping without to create a softer suspension setting allows the rider more feel for grip, obviously the rain affects our grip level. We can afford to make the bike softer as we are not going to run the cornering forces or ride the motorcycle the same as we do in the dry, sacrificing the stiffness that offers a more precise ride for grip in a sense. If you have a steering damper get rid of it or at least turn it off or to the lightest settings, remember a steering damper will take the sensitivity and feel of the bike away.
---
---
Incorrect tyres will lead to spending way too much time on your backside! In the rain it is so important to have the best rubber available and a spare set of wheels fitted up with some nice new wets is a must. Trying to get a motorcycle around a wet track on the latest dry weather sports tyre is going to be a real test of your skills and can I say you will need also a lot of luck to stay on board. So invest in a set of wheels so you can have the best set of wets available, it's no good turning up to a gunfight with a knife! 
Tyre pressures are also critical, the ability to be able to drain water form the tyre and cut a path through the water creating a good contact patch and grip is all part of the tyre performance while out in the wet.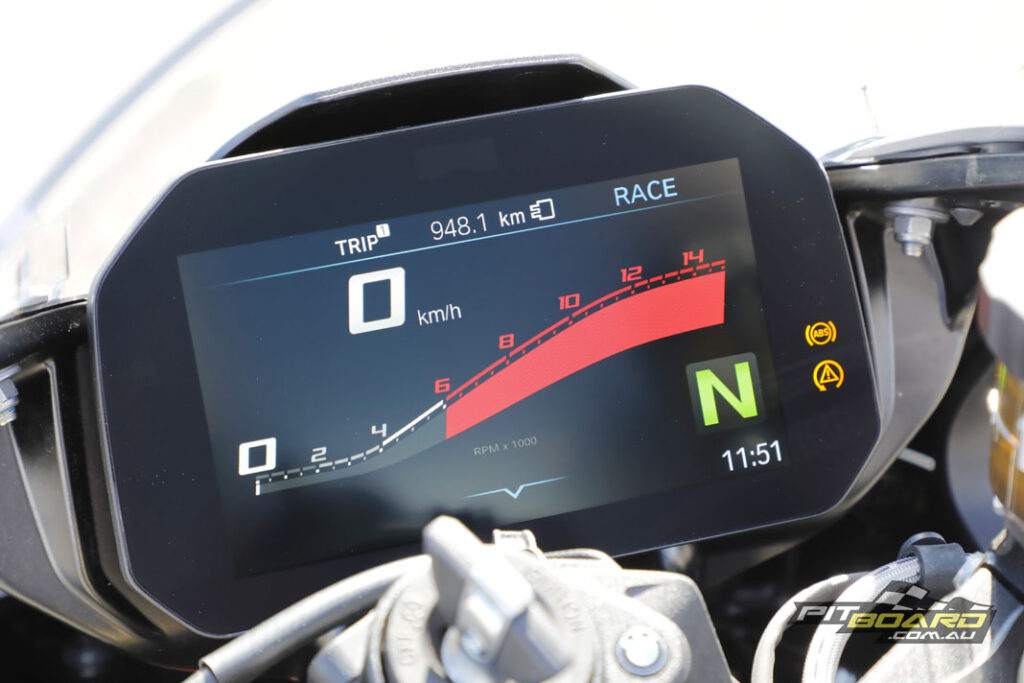 If you have an adjustable fuel map and or ignition map you may even consider making adjustment of how the power to the rear wheel is being delivered, getting power to the ground without wheelspin is what we are looking for in the wet, also using the throttle to gain grip in the front of the bike to help the motorcycle turn is very important, without a nice throttle response, riding a bike in the wet is really difficult in acceleration and turning.
Making sure the chain is adjusted is critical, ensuring you have exact throttle response to the rear wheel, not only does the throttle accelerate and turn bike it also can stop or slow bike in the rain that can create a range of issues and I am not just talking about power slides but also engine brake slides.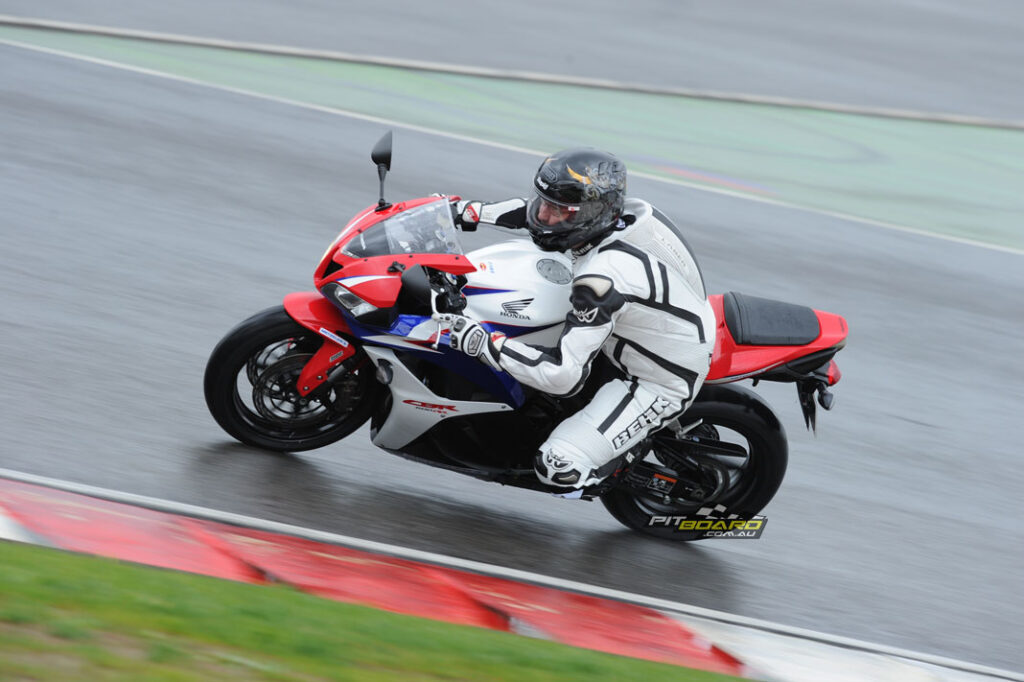 GEAR
I can still remember John Koncinski, a sponsored Honda rider at Honda's home track event, the prestigious Suzuki 8 Hour race. John's helmet would not demist properly and it lost him the race. Helmets need to be able to vent and deal with anti fogging, plenty of venting and a visor that seals well is essential, especially when you are riding in a deluge. Clean your visor with Mr Sheen or a cleaner that has a silicone content…
A wet weather suit will protect you from the elements as well as look after your leathers, ensure that the suit does not interfere with your movement. This restriction will affect how you control your bike.
---
Keep an eye on the weather app to see when and where the rain will be, the radar will be a few steps ahead of you so you can begin preparing…
---
Your equipment must be functional and is a large part of whether you do the job well or just get the job done. Concentration skills and extra attention time available to you enables you to see and take advantage of opportunities that the opposition may not have, all because they are not prepared.
THE TRACK
The advantage of a good track walk in the morning and after every day's ride especially if it's wet is huge. The rain drainage and the natural terrain around the circuit will have a big impact on what happens during a heavy deluge of rain.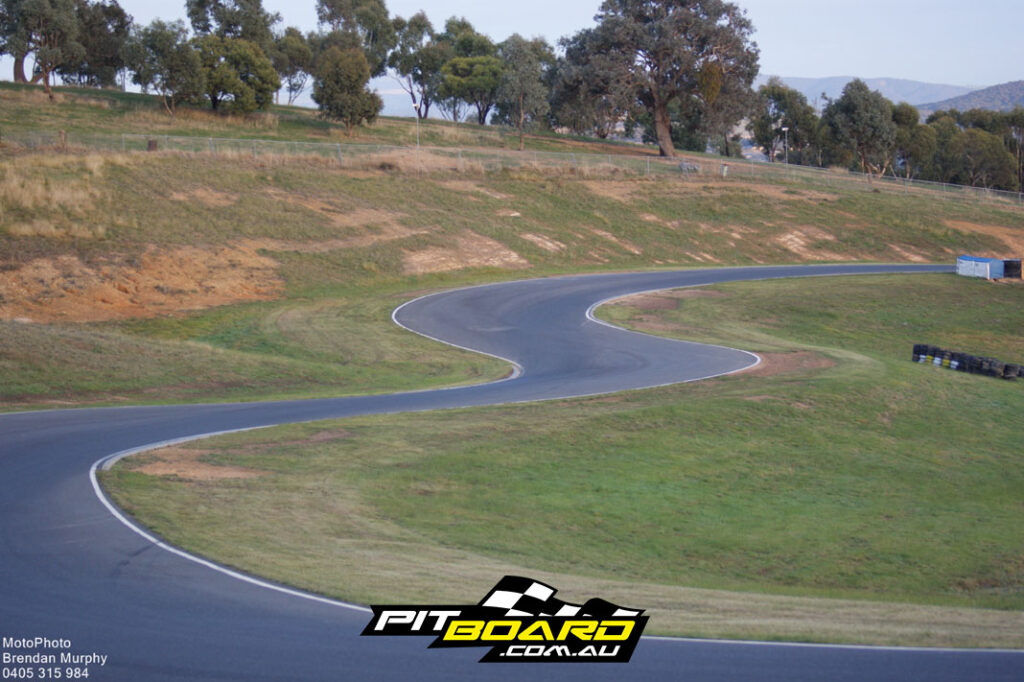 Understanding the track and where it is going, the type of turns, humps, bumps, negative and positive cambers, drainage and possible problems that will create issues like puddles forming on clipping points, can all be noted.
TECHNIQUE
So we now have the bike set-up, the correct riding equipment, knowledge of the track and where we can expect the puddles and rivers etc to come from. We can work on our body English now.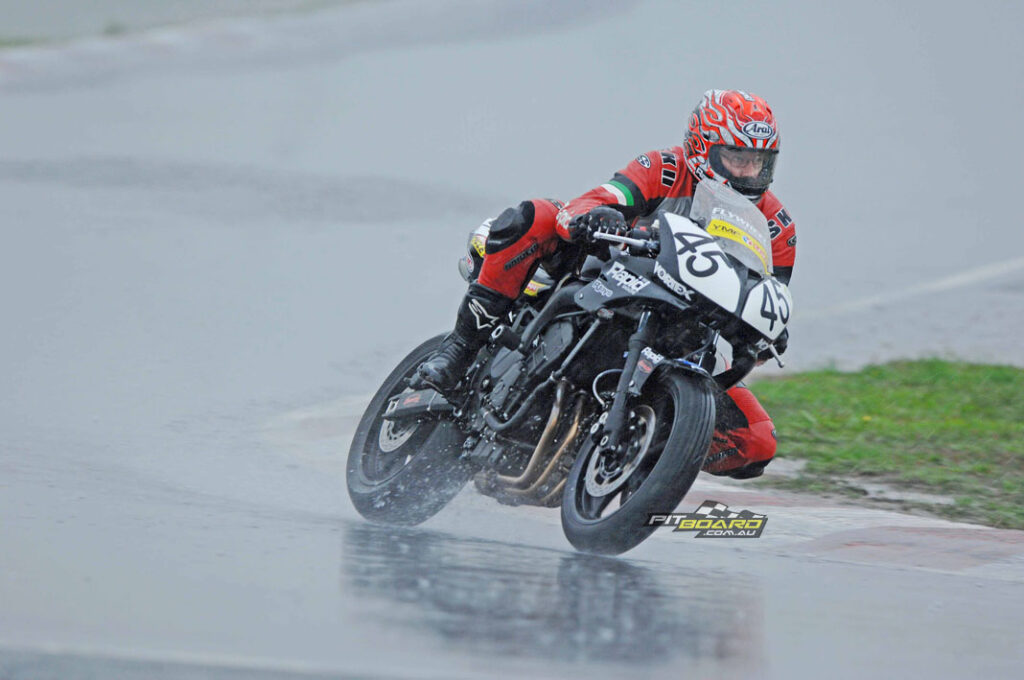 The important skill of using your posture cannot be underestimated. The bike's lean angle and ride in the wet is so much different to a dry ride. The lean angles and grip differ, the aggression of acceleration, the braking points and overlapping of the brakes are all affected, making what we do on the bike very different. Use your body English to stand the motorcycle up and gain maximum drive out of the turns reducing wheel slip, using your legs and top half of your body.
Weighing your feet to help with sudden shifts and slides is essential, pinning your knees to the tank while heavy braking in a straight line. We are really trying to relax our arms and hands so we can feel any feedback from the handlebars, the bar movements are giving us the feel of loss and gain of grip, a relaxed grip also allows us to use the throttle as required to make the motorcycle steer while also assisting in controlling slides.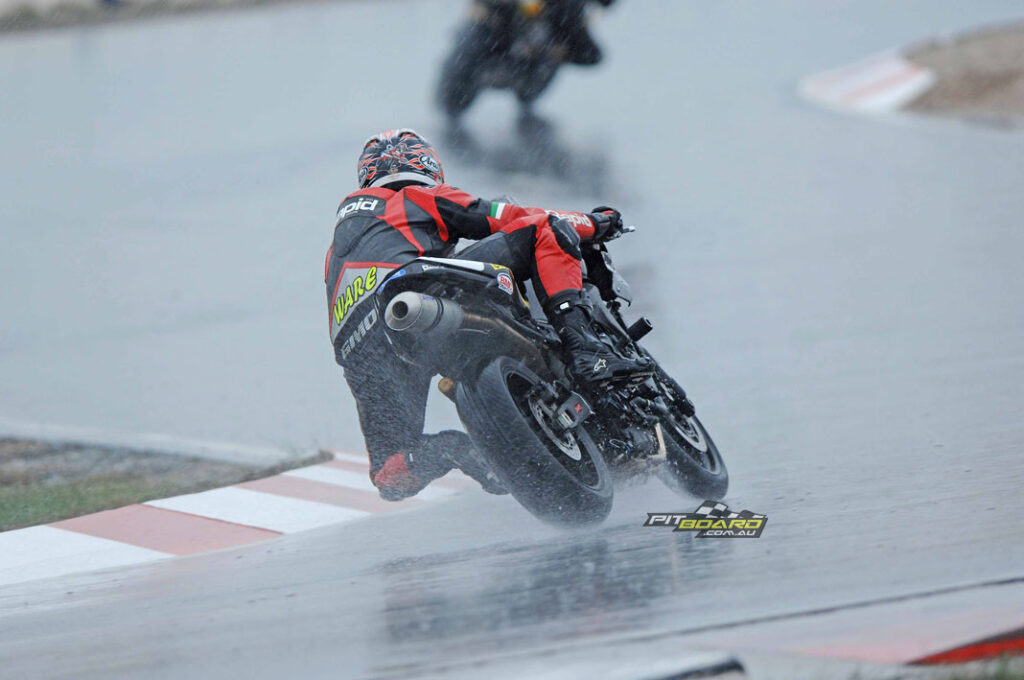 Being able to effectively rev back during down changes is so important, the use of a small amount of clutch slip is just as important; we need rear stabilising and engine braking and don't need engine lock ups from abrupt gear changes.
RACE STARTS
Remember on the startline, try to keep your head from sitting over the hot engine, otherwise you may be affected by steam fogging the visor. A minor burnout to get some heat into the rear tyre could save on wheel spin off the line if it is allowed.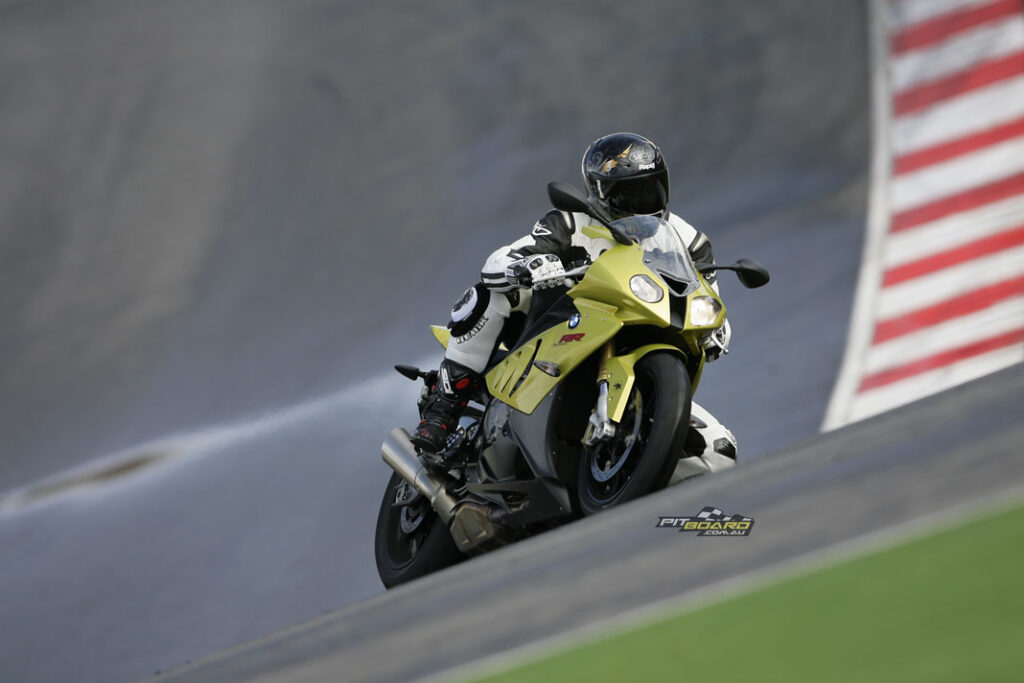 Getting ahead of the group or the front is pretty important especially if it is heavy in rain in an attempt to minimise the effects of spray especially if there is a huge group of riders the spray of other bikes can restrict vision so badly that you can barely see what is happening in front of you, making your job very dangerous.
Never position yourself on the outside of another competitor or a rider, your success will be in their hands, if the inside rider throws it away (which is a good possibility in the rain) he/she will be taking you with them.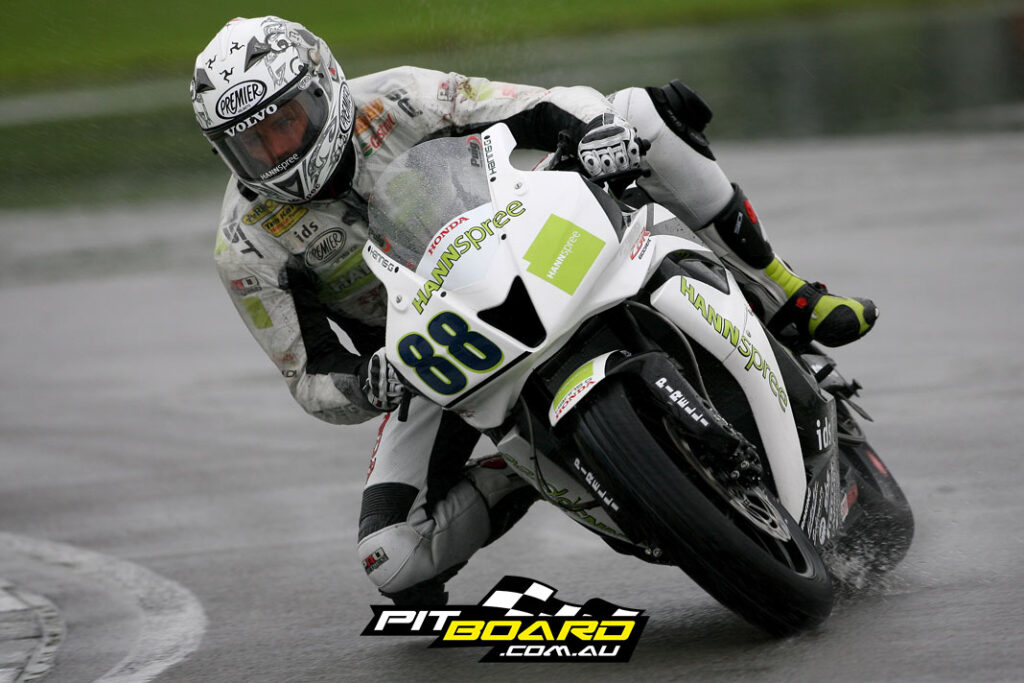 RACE PLAN
Planning an overtake can be difficult on a drying track as you are required to get of the fast line to pass the opposition, work out your strengths and plan a clean over take A drying line will have changing grip level which comes with some complications especially if you are on wets you may have to go searching for puddles to cool west so you can survive the race, as the track dries be aware of wet patches, where will I stand up the bike…
A drying track means developing more speed and slightly different lines every time we are getting around the track, ensure you are used to picking brake off points and scanning into turns is essential, keep looking for the drying line.
---